Point Park men's cross country picked 4th in KIAC Preseason Coaches' Poll
Aug. 20, 2015 at 12:30 p.m. ET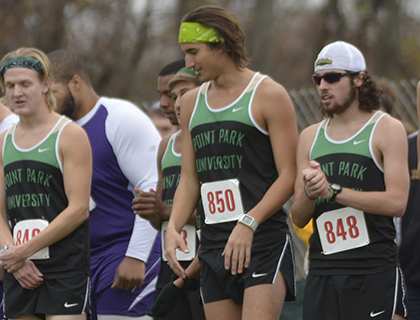 FLORENCE, Ky. – Point Park University men's cross country is predicted fourth of 11 schools in the 2015 KIAC Men's Cross Country Preseason Coaches' Poll. The Pioneers are picked one spot ahead of where they finished in the conference last year.
The University of Rio Grande was picked as the conference favorite after garnering 10 of 11 first-place votes. The RedStorm has many runners returning from last year's KIAC championship team. Rio Grande placed six runners in the Top 10 of the 2014 KIAC Championship Meet, and all of those were underclassmen.
Voting was conducted by the 11 KIAC men's cross country head coaches. Coaches were not permitted to vote for their own team. As the clear favorite, Rio Grande earned the maximum of 100 points and had 10 first-place votes in the preseason poll.
IU East totaled 84 points to place second in the poll, the same position it placed in the 2014 KIAC Meet. Likewise, Brescia (Ky.) University was chosen third with 78 points after placing third at last year's championship.
Point Park was the only other team besides Rio Grande to earn a first-place vote and came in fourth in the poll with 76 points. The Pioneers were fifth in the conference last season. The top five predicted finishers are rounded out by Asbury (Ky.) University in fifth with 65 points.
West Virginia Tech, one of two KIAC newcomers along with Ohio Christian, was chosen sixth with 50 points followed by IU Kokomo (42 points), Cincinnati Christian (35), Ohio Christian (33), Carlow (30) and Alice Lloyd (12).
The KIAC men's cross country season opens August 28. The 2015 KIAC Cross Country Championship Meet is Nov. 7 at Rio Grande. The conference championship team will receive an automatic bid to the NAIA Cross Country National Championship Nov. 21 at Charlotte, N.C., along with any qualifying individuals.
Follow KIAC cross country at KIACsports.com and on Twitter @KIACSports.
2015 KIAC MEN'S CROSS COUNTRY PRESEASON COACHES' POLL (Aug. 14)
(First-Place Votes in Parenthesis)
| | |
| --- | --- |
| School | Points |
| 1. Rio Grande (10) | 100 |
| 2. IU East | 84 |
| 3. Brescia (Ky.) | 78 |
| 4. Point Park (Pa.) (1) | 76 |
| 5. Asbury (Ky.) | 65 |
| 6. West Virginia Tech | 50 |
| 7. IU Kokomo | 42 |
| 8. Cincinnati Christian | 35 |
| 9. Ohio Christian | 33 |
| 10. Carlow (Pa.) | 30 |
| 11. Alice Lloyd (Ky.) | 12 |