Point Park places 5th of 15 teams at PSU-Behrend men's cross country meet
Sept. 20, 2015 at 8:30 a.m. ET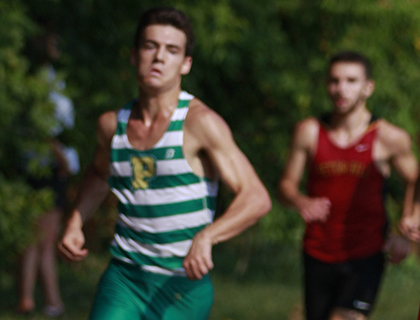 Freshman Gary Olson was 18th at the PSU-Behrend Invitational. Photo by Liz Berie.
ERIE, Pa. -- Point Park University men's cross country placed fifth of 15 teams on Saturday at the Penn State-Behrend Invitational and placed three runners in the Top 25 individual placements.
Freshman Brian Moore posted a time of 26:45 to place fifth, and it was the first time this year that he or anyone from the Point Park team bested 27 minutes. Moore is from Howell, Mich.
Also earning medals in the Top 25 were freshman Gary Olson in 18th place at 27:42 and freshman Connor Wright in 20th at 27:58. It was the second meet in a row that Point Park had three runners break 28 minutes in the 8K meets.
Senior Zane Kravec was 43rd with a time of 29:10, and freshman Bradley Calleja was next in 45th at 29:24. Chris Hunt (29:51) and Eric Engel (30:19) rounded out the Pioneers' top seven runners.
In the team standings, John Carroll won easily with 21 points. That was followed by host PSU-Behrend in second with 84, Lake Erie in third at 91, Case Western in fourth with 108 and Point Park in fifth at 116.
For complete results, click the results link above. The Pioneers return to action next Saturday, Sept. 26 at Lock Haven University. Follow the Pioneers on Twitter @PointParkSports and Facebook.com/PointParkAthletics