Point Park men's cross country opens season at Duquesne Duals
Sept. 5, 2015 at 7:15 a.m. ET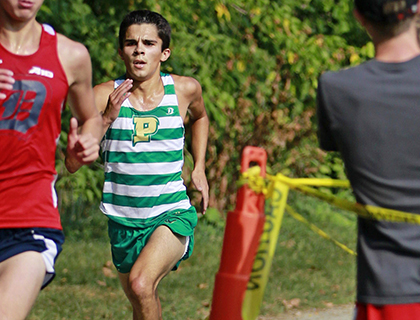 Freshman Brian Moore chasing down the NCAA Division I competition at the Duquesne Duals. Photo by Liz Berie.
PITTSBURGH -- The Point Park University men's cross country team opened its 2015 season on Saturday at the Duquesne Duals competing against five NCAA Division I schools among others at the local race held in Schenley Park.
A young Pioneers teams had five of its top seven finishers as freshman on the day. Freshman Brian Moore, from Howell, Mich., led the way earning a medal in 17th place of 95 runners with a time of 27:05. Moore was one of only five runners in the Top 25 who was not from NCAA Division I. Of the 16 runners ahead of him, 14 came from NCAA Division I.
Point Park had five runners under 29 minutes and seven runners under 30 minutes, neither of which had ever happened in the history of the Pioneers men's cross country program. The Pioneers beat St. Vincent and Seton Hill, two more firsts in team history.
After Moore's high finish, Point Park had freshman Sean Hilverding in 45th place at 28:04, freshman Gary Olson in 55th place at 28:39 and freshman Bradley Calleja in 58th place at 28:43. Sophomore Chris Hunt was next in 60th at 28:47 to round out the top five.
Freshman Connor Wright placed 70th with a time of 29:12, and senior captain Zane Kravec was 77th with a time of 29:37. For the complete results, click the link above.
Point Park is next in action Saturday, Sept. 12 at the Bethany (W.Va.) Invitational. Follow the Pioneers on Twitter @PointParkSports hashtag #PPUXC