Point Park's 2015 cross country schedule released with season opener Sept. 5

July 22, 2015 at 4:30 p.m. ET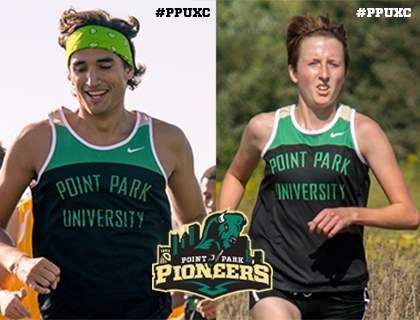 PITTSBURGH -- Point Park University's 2015 men's and women's cross country schedule has been released with eight meets beginning Sept. 5. The Pioneers open up at the Duquesne University Duals in Schenley Park.
The Pioneers will build toward the KIAC Championship with seven regular season meets that provide a challenging schedule and good preparation. The KIAC Meet is Nov. 7 at Rio Grande and is a NAIA national championship qualifier for the team and individuals.
"This season, we will be competing in some larger, more competitive meets," said Point Park cross country head coach Kelly Parsley. "That includes the Duquesne Duals, the Louisville Classic and Gettysburg, and we will be going back to Lock Haven again this year."
"I am excited to see our teams compete against some of the best competition in the area. Two of our scheduled meets will have Division I programs participating. I expect this will prepare us to battle for a KIAC championship."
The season-opening Duquesne Duals provide a strong challenge at the start with NCAA Division I schools such as host Duquesne. The Pioneers will also compete at a Division I meet at the Louisville Classic hosted by the Cardinals on Oct. 3.
Another highlight of the season is the annual visit to the Carnegie Mellon Invitational Oct. 10 in Schenley Park, which always provides one of the toughest competitions of the year. The CMU Meet is a part of Point Park's Family Weekend schedule Oct. 9-11.
Point Park has races the first first seven weeks of the season. Week number two is a trip to Bethany (W.Va.) College (Sept. 12) followed by Penn State-Behrend (Sept. 19) and then the first of two trips to Lock Haven (Sept. 26).
After Louisville (Oct. 3) and CMU (Oct. 10), the Pioneers will go to the Gettysburg Invitational Oct. 17 before having their first week off on Oct. 24. The Pioneers will visit Lock Haven once again for the Go Fast River Run on Oct. 31, which is the last meet before the KIAC Championship.
The KIAC team champion and qualifying individuals will advance to the NAIA National Championship Meet Nov. 21 at Charlotte, N.C. The KIAC Meet will be hosted by the University of Rio Grande on Nov. 7.
For the complete Point Park M+W Cross Country 2015 Schedule, click the link above. Follow the Pioneers on Twitter & Instagram @PointParkSports hashtag #PPUXC and on Facebook.com/PointParkAthletics