Point Park Cross Country and Track & Field recruit Sean Hilverding
June 2, 2015 at 5:30 p.m. ET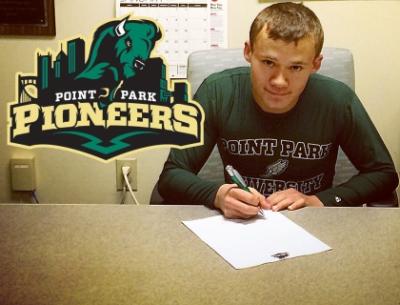 PITTSBURGH -- Sean Hilverding will continue his cross country and track and field career at Point Park University. The Waynesburg (Pa.) Central High School standout has signed on to compete in both sports as a freshman in 2015-16 for Pioneers track and field and cross country head coach Kelly Parsley.
"Sean is one of the toughest competitors I have ever seen," said coach Parsley. "His work strong work ethic and determination are the big reasons for his recruitment. He has Top 10 finishes at the state meet the past two seasons in cross country, and he had a top 4 finish in the state meet in the 3,200 meters. Sean's potential is limitless, and I expect him to compete for a conference championship and qualify for the national meet. Sean is one of many new additions who will help the Pioneers."
Hilverding placed sixth in the state of Pennsylvania at the PIAA cross country championships as a senior in the fall of 2014. He posted a time of 16:28 (5K) to earn all-state honors across all classifications. He
His senior year of cross country also included placing third at the WPIAL championship meet with a time of 17:02 (5K). Hilverding comes to Point Park with a personal-best time of 15:51 in the cross country 5K.
In track and field, Hilverding had a very successful distance career. His senior year he placed second in the 3,200 meters (2-mile) at the WPIAL meet with a time of 9:30.36. A state qualifier in the 3,200 meters, an injury forced him to withdraw from the event during the PIAA race, although he had finished in the top four previously.
Follow the Pioneers on Twitter @PointParkSports hashtag #PPUXC #PPUTF