Point Park Cross Country and Track & Field recruit Gary Olson
July 2, 2015 at 11:15 a.m.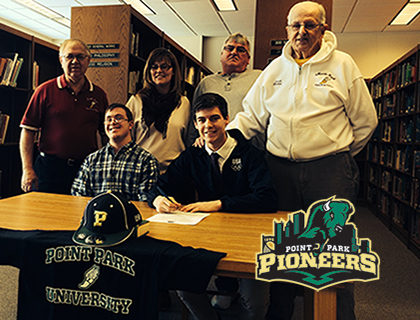 PITTSBURGH -- Point Park University cross country and track and field will welcome four-time state qualifier Gary Olson of North East High School as a freshman in the 2015-16 school year.
Olson, from Erie, Pa., qualified for the PIAA state meet in cross country or track and field all four years of his high school career. In cross country, he was a state qualifier three times, and in track and field, he qualified for states in the 1,600 meters, 800 meters and the 3200-meter relay as a senior.
"Gary Olson is a special kid," said Pioneers cross country and track & field head coach Kelly Parsley. "His love for the sport goes beyond the field. His times put him right in the mix as one of our top distance runners. It will be exciting to see him run and train with his future teammates."
In the cross country 5K, Olson established a personal-record time of 16:36. During his high school career, he placed as high as 32nd at the state meet and as high as fourth in the District 10 meet.
In track and field, he has been a top three performer in the 1,600 meters in District 10 for the last three years. He placed third at the District 10 meet with a PR time of 4:30.35 last year.
In the 800 meters, his best time is 1:59.80, and he placed third in District 10 to qualify for states as a senior. Olson's best time in the 3,200 meters is 10:08, and he was ninth in the district as a senior.
Follow the Pioneers on Twitter @PointParkSports hashtag #PPUXC #PPUTF