Point Park Men's Cross Country takes first place at Bethany (W.Va.) Invitational

Sept. 12, 2015 at 4:30 p.m. ET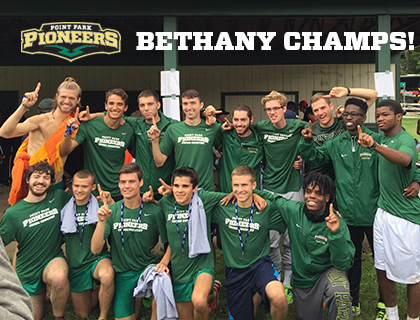 BETHANY, W.Va. -- Point Park University men's cross country took first place of 17 teams in the team standings at the Bethany (W.Va.) College Invitational on Saturday (Sept. 12).
It was the first team victory for the Pioneers since winning the Pitt-Greensburg meet five years ago in 2010. Point Park had four runners finish in the Top 10 Saturday, and it had its top five scorers all in the top 11 placements.
Point Park had three runners under 28 minutes led by freshman Brian Moore in second place individually at 27:00. Next was freshman Gary Olson in fourth place at 27:20 followed by freshman Sean Hilverding in fifth place at 27:39.
Registering a Top-10 finish was sophomore Chris Hunt at 28:07 in 10th place, and he was followed right behind by Connor Wright at 28:08 in 11th place. Coming in among the Pioneers' top seven runners were Bradley Calleja in 27th (29:10) and Zane Kravec in 41st (29:45).
Point Park had a very strong team score of 32 points, and the closest team was Washington & Jefferson with 71 points followed by West Virginia Wesleyan with 74. For the complete listing of team and individual results, click the results link above.
Follow Point Park cross country on the web at PointPark.edu/athletics and on Twitter @PointParkSports hashtag #PPUXC. the Pioneers are in action again next Saturday at Penn State-Behrend at 11 a.m.