TOP HEADLINES

Point Park men come up cold at IU Southeast with under-manned roster
Jan. 21, 2017 at 9:45 p.m. ET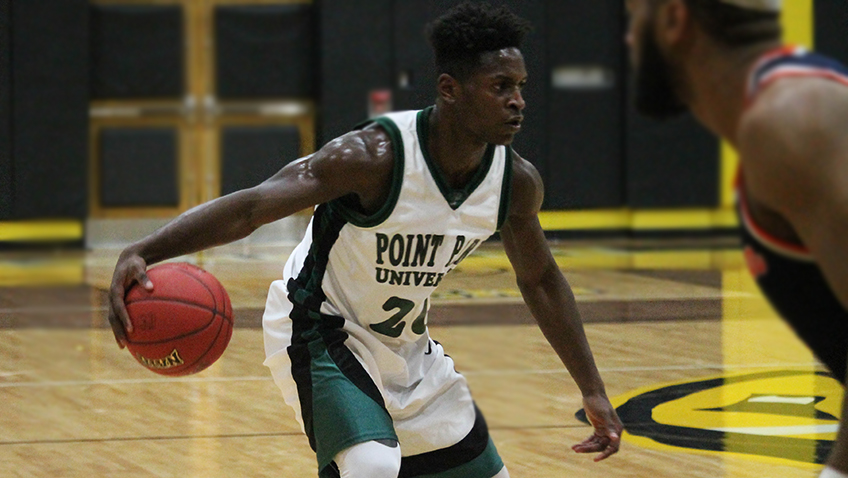 NEW ALBANY, Ind. -- Facing the No. 1 defense in the nation in terms of field-goal percentage allowed was not a good sight for a team that was missing many of its top offensive players. Point Park lost at IU Southeast, 83-54, on Saturday. FULL STORY
Point Park drops River States Conference road game at Brescia, 84-71
Jan. 21, 2017 at 12:45 a.m. ET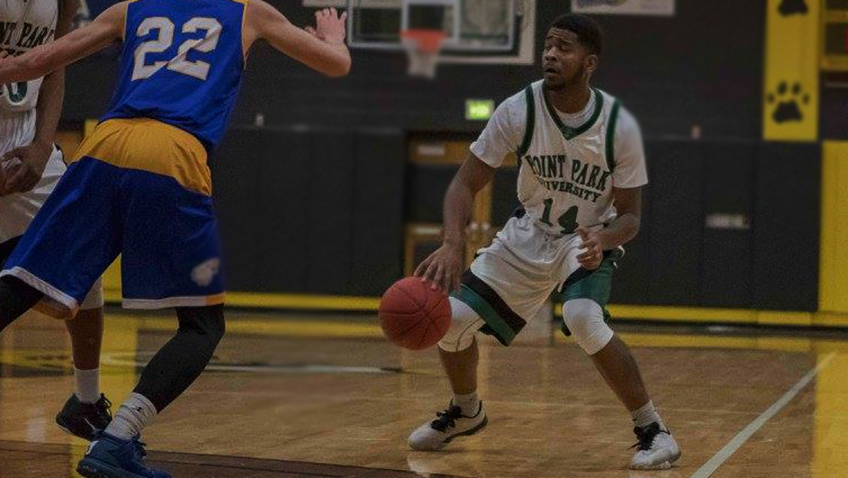 OWENSBORO, Ky. -- Point Park University men's basketball once again spotted the opponent a halftime lead and was unable to win, this time in an 84-71, loss at Brescia (Ky.) University in a River States Conference game on Friday night. FULL STORY
SCHEDULE CHANGE: Point Park Men's Basketball vs. Villa Maria (N.Y.) has a new date: Jan. 25
Jan. 16, 2017 at 12 p.m. ET
PITTSBURGH -- Point Park University men's basketball's scheduled home game Jan. 17 versus Villa Maria (N.Y.) has a new date. The non-conference matchup will be played Wednesday, Jan. 25. Tipoff is 7 p.m. at CCAC-South. READ MORE
Ohio Christian rides hot shooting to RSC victory over Point Park
Jan. 15, 2017 at 7:30 a.m. ET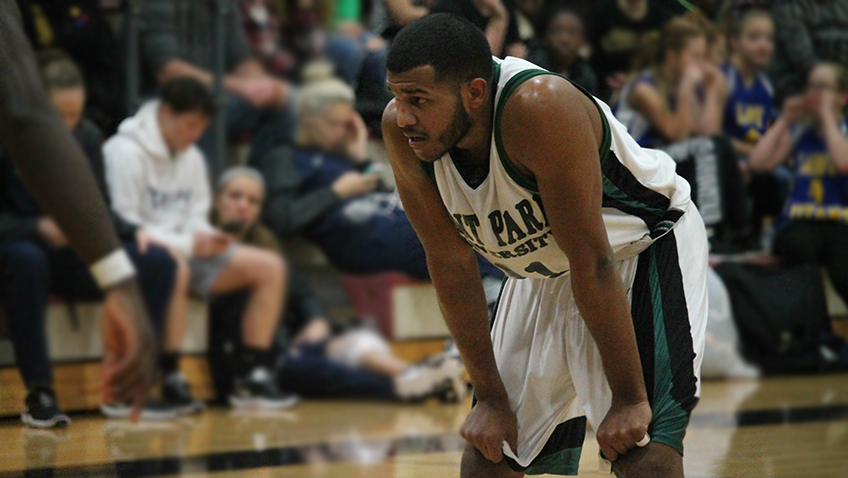 CIRCLEVILLE, Ohio -- Ohio Christian came out hot from the beginning and never cooled off in a 128-72 victory over visiting Point Park University in a River States Conference men's basketball game on Saturday. FULL STORY
#11 IU East takes control early on, beats Point Park men in RSC matchup
Jan. 14, 2017 at 1:30 a.m. ET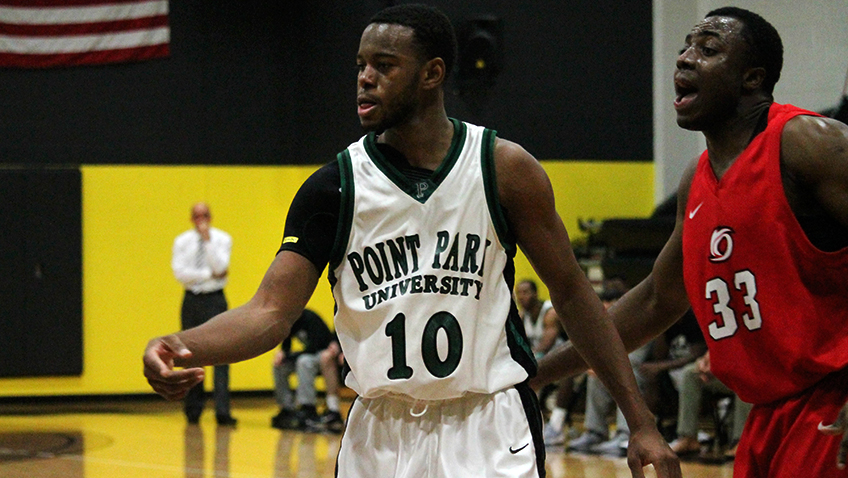 RICHMOND, Ind. -- No. 11-ranked IU East rode a big first half to take control on its way to a 102-79 victory over visiting Point Park University in a River States Conference men's basketball game Friday night. FULL STORY
Point Park men bounce back with overtime win over IU Kokomo, 84-73
Jan. 8, 2017 at 7:30 a.m. ET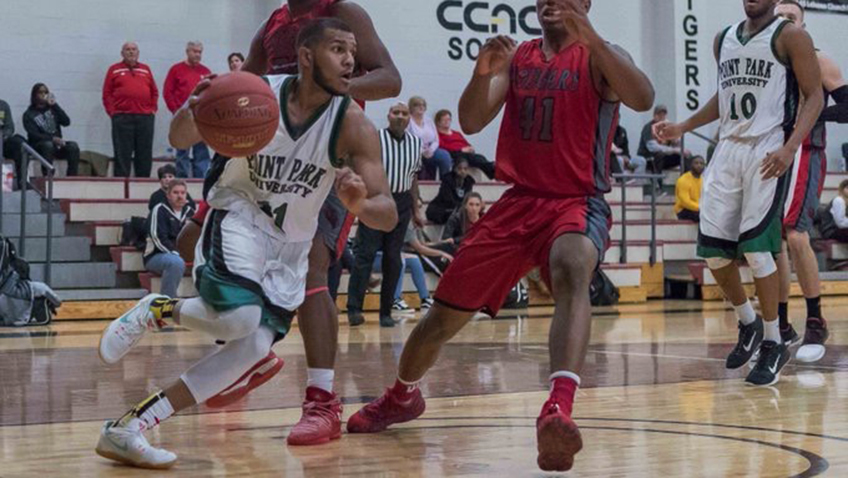 WEST MIFFLIN, Pa. -- Point Park University men's basketball was in need of a home win over on Saturday and came through with an 84-73, overtime victory over visiting IU Kokomo at CCAC-South Gym. FULL STORY
Point Park edged by Midway in final minutes, 82-80, for RSC home loss
Jan. 6, 2017
WEST MIFFLIN, Pa. -- In a game of runs, it was Midway (Ky.) University that made the last one to edge Point Park University, 82-80, in a River States Conference men's basketball game Friday night at CCAC-South Gym. FULL STORY
Point Park's road struggles continue with first conference loss at CCU
Jan. 3, 2017 at 11:59 p.m. ET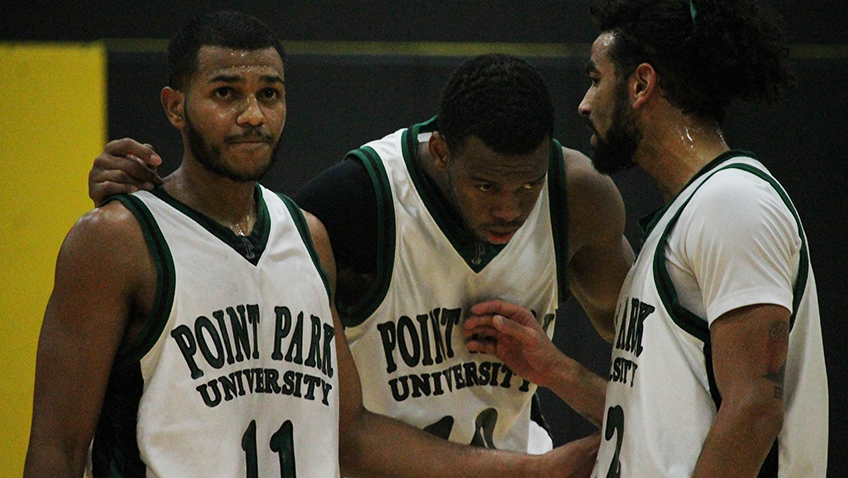 CINCINNATI, Ohio -- Point Park University men's basketball had its struggles away from home continue in Tuesday night's 112-83 loss at Cincinnati Christian, a River States Conference matchup. FULL STORY
Point Park, #25 UNOH nearly match NAIA's 3-point record in Racers' victory
Dec. 14, 2016 at 11:15 p.m. ET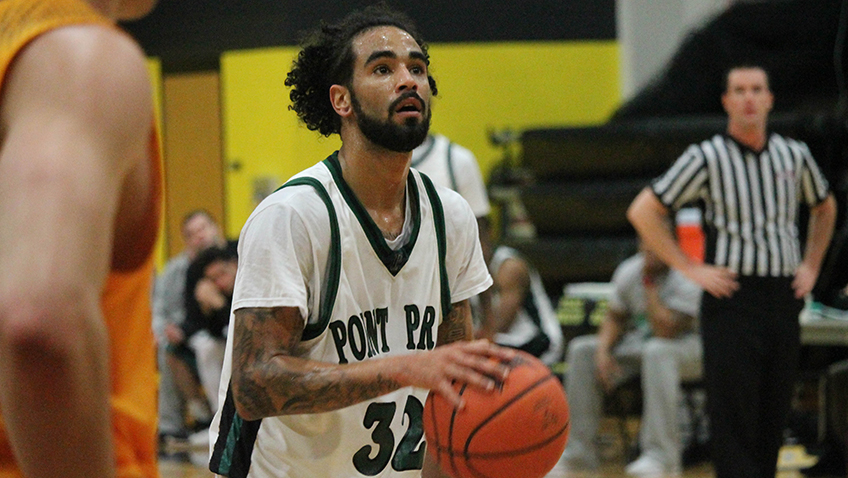 LIMA, Ohio -- Point Park University and No. 25 Northwestern Ohio nearly met a national record for made 3-pointers in an NAIA shootout on Wednesday. The Pioneers made 20 treys, but UNOH made 21 to come away with a 111-94 win. FULL STORY
Point Park beats Carlow, 90-83, improves to 3-0 River States Conference
Dec. 13, 2016 at 12:30 a.m. ET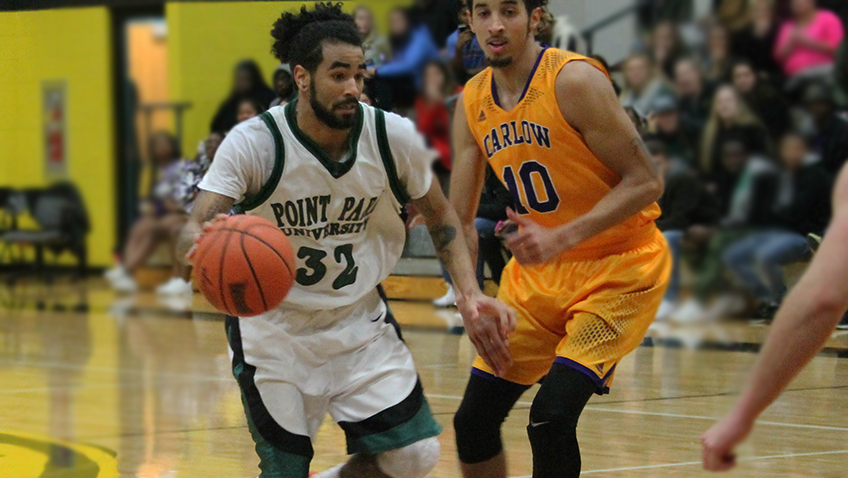 WEST MIFFLIN, Pa. -- Point Park University men's basketball made a quick run to take control over Carlow University and never looked back in a 90-83 victory Monday night at CCAC-South Gym. FULL STORY
Point Park men out-shot, out-rebounded in loss at Shawnee State, 96-75
Dec. 12, 2016 at 7:45 p.m. ET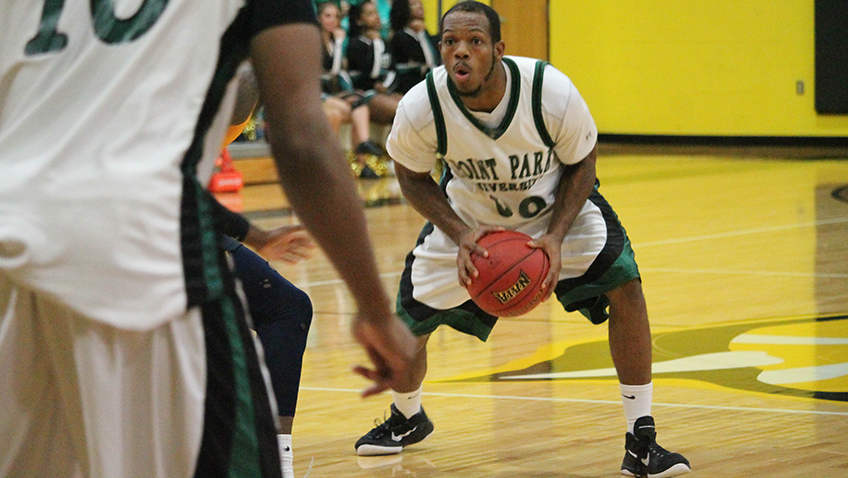 PORTSMOUTH, Ohio -- Being out-shot and out-rebounded finally caught up to Point Park University down the stretch, and the Pioneers lost at Shawnee State, 96-75, in a non-conference men's basketball game on Saturday. FULL STORY
Washington Adventist stays undefeated with victory at Point Park, 102-92
Dec. 6, 2016 at 11:50 p.m. ET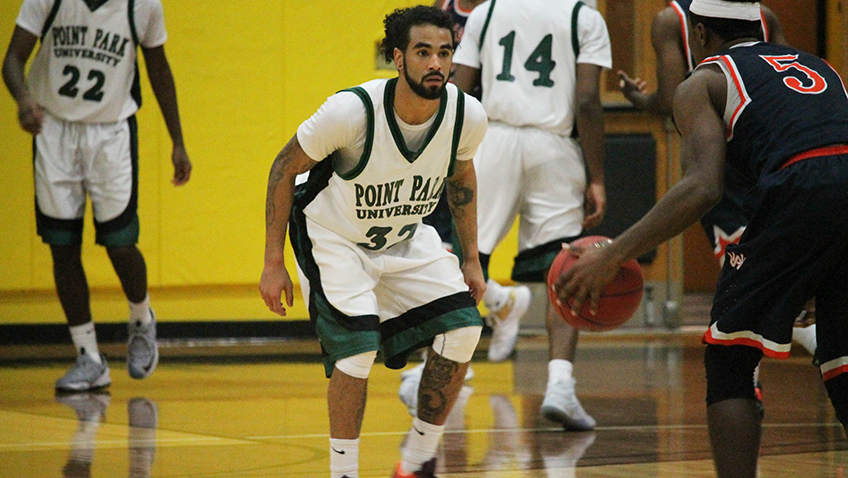 WEST MIFFLIN, Pa. -- Washington Adventist stayed as one of only two undefeated teams left in NAIA Division II with Tuesday night's 102-92 win at Point Park University in a non-conference men's basketball game at CCAC-South Gym. FULL STORY
Point Park shrugs off early deficit, surges to 91-80 victory over WVU Tech
Dec. 3, 2016 at 9:00 p.m. ET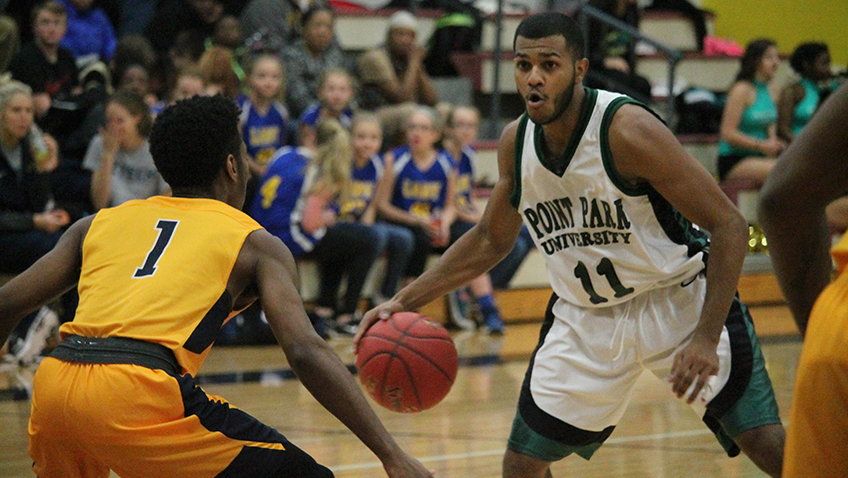 WEST MIFFLIN, Pa. -- Things were not looking good for Point Park University men's basketball when it trailed WVU Tech, 18-2, after five minutes of Saturday's River States Conference game at CCAC-South Gym. FULL STORY
Point Park pulls away from Rio Grande in 2nd Half of 82-57, RSC win
Dec. 3, 2016 at 1:30 a.m. ET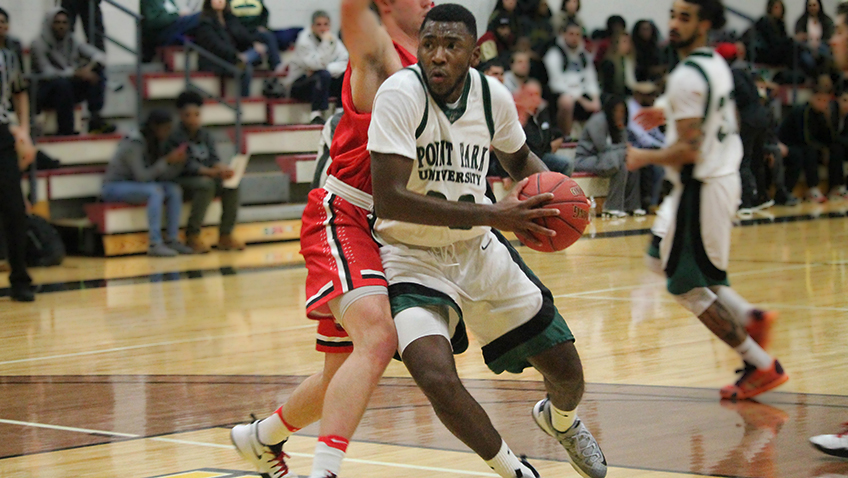 WEST MIFFLIN, Pa. -- Point Park University men's basketball had an impressive second half on its way to an 82-57 victory over University of Rio Grande on Friday night at CCAC-South, the River States Conference opener for both teams. FULL STORY
Point Park runs out to early lead, beats Penn State-Fayette, 104-82
Nov. 23, 2016 at 7:15 a.m. ET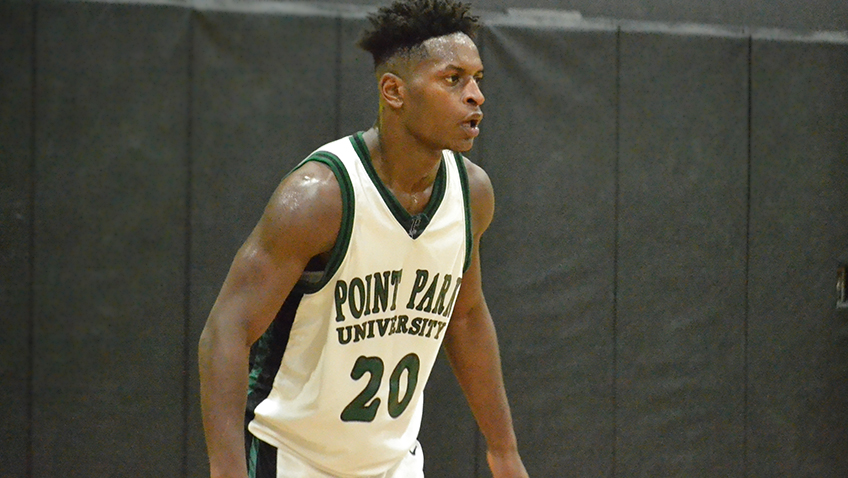 WEST MIFFLIN, Pa. -- Point Park University men's basketball got out to a 25-point lead midway through the first half on its way to a 104-82 home win over Penn State-Fayette on Tuesday night at CCAC-South Gym. FULL STORY
Point Park men overcome slow first half to beat PSU-Fayette, 75-72
Nov. 17, 2016 at 10:30 a.m. ET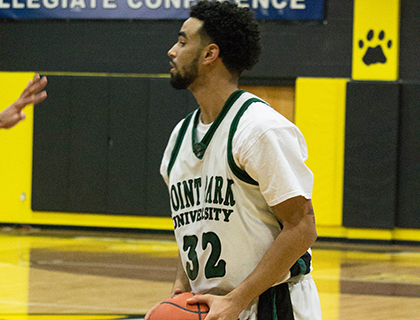 LEMONT FURNANCE, Pa. -- Sa'iid Allen scored a career-high 32 points, and the Point Park University men's basketball team overcame a slow first half to win at PSU-Fayette, 75-72, in a non-conference game Wednesday night (Nov. 16). FULL STORY
No. 7 Wheeling Jesuit (W.Va.) beats Point Park men's basketball
Nov. 16, 2016 at 10:31 a.m.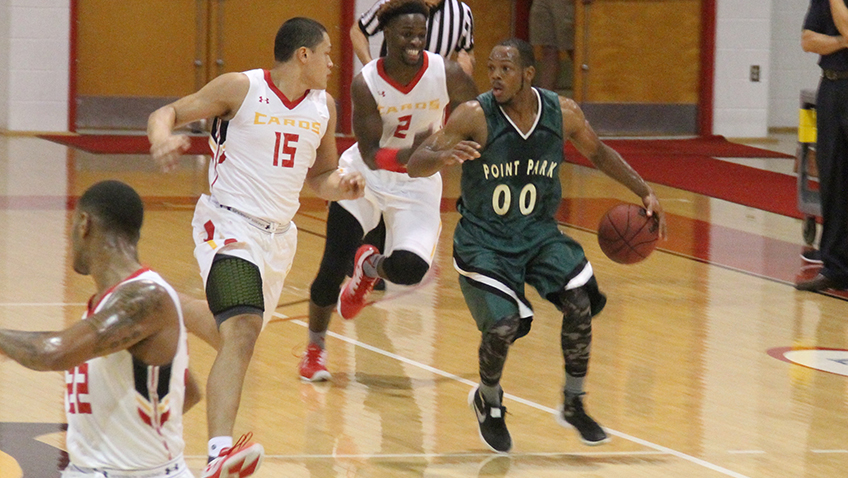 WHEELING, W.Va. -- NCAA Division II No. 7 ranked Wheeling Jesuit University showed its strength in Tuesday night's win over Point Park University, 121-82, in a non-conference men's basketball game. FULL STORY
No. 19 Pikeville (Ky.) pulls away from Point Park with hot-shooting 2nd Half
Nov. 13, 2016 at 7:45 a.m. ET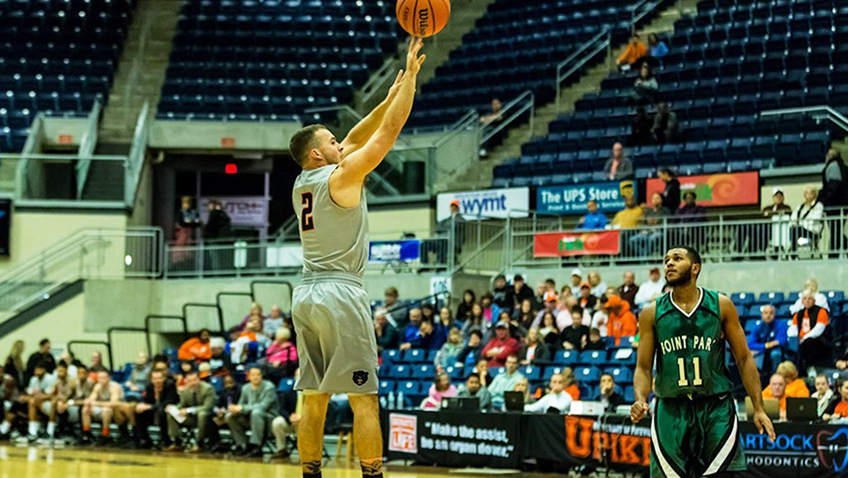 PIKEVILLE, Ky. -- Point Park University men's basketball ran into a red-hot shooting display from NAIA Division I No. 19-ranked Pikeville (Ky.) on Saturday night and lost, 105-62, at the East Kentucky Expo Center. FULL STORY
Point Park's upset bid loses steam versus No. 1 St. Francis (Ind.), 104-89
Nov. 12, 2016 at 1:45 a.m. ET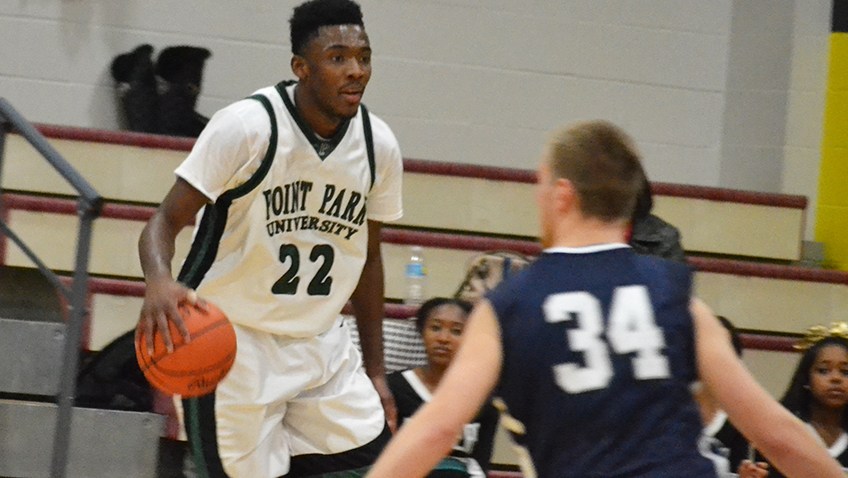 Jaylen Mann scored 23 points for the Pioneers on 7 of 12 from 3-point range (2015 Photo).
PIKEVILLE, Ky. -- Point Park men's basketball made 19 3-pointers to put an upset scare into NAIA Division II No. 1 St. Francis (Ind.) at various points in Friday's game, but the Pioneers got into trouble midway through each half and lost, 104-89. FULL STORY
Point Park men's basketball out-shot by Wash. Adventist in season opener
Nov. 9, 2016 at 2:45 a.m. ET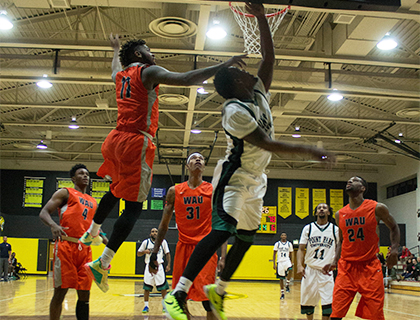 TAKOMA PARK, Md. -- Point Park University men's basketball was out-gunned by Washington Adventist University in its season opener Tuesday night, 112-89. FULL STORY
Point Park's Kelvin Goodwin named NAIA DII Honorable Mention All-America
March 28, 2016 at 4:00 p.m. ET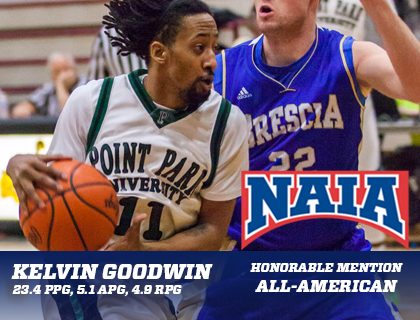 KANSAS CITY, Mo. -- Point Park guard Kelvin Goodwin has another accolade for his outstanding senior season. The 6-0 guard from Wheeling Park, W.Va., was named NAIA Division II Men's Basketball Honorable Mention All-America. FULL STORY
Goodwin, Williams named to All-KIAC Men's Basketball Teams from Point Park
March 1, 2016 at 5:00 a.m. ET
PITTSBURGH -- Point Park University's prolific backcourt of seniors Kelvin Goodwin (23.4 ppg) and Jerah'me Williams (18.9 ppg) claimed spots on the All-KIAC Men's Basketball Teams for 2015-16. FULL STORY
Point Park loses at Alice Lloyd (Ky.), 89-88, in KIAC Tournament Semifinals
Feb. 28, 2016 at 1:30 a.m. ET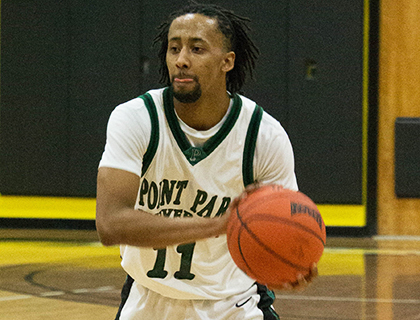 PIPPA PASSES, Ky. -- Free throws played a big role in the KIAC Men's Basketball Tournament semifinals on Saturday with No. 1 seed Alice Lloyd (Ky.) escaping with an 89-88 victory over No. 2 seed and visiting Point Park University. FULL STORY
Point Park shoots 75% percent in 2nd Half of 98-83 win over Brescia (Ky.)
Feb. 25, 2016 at 1:00 a.m. ET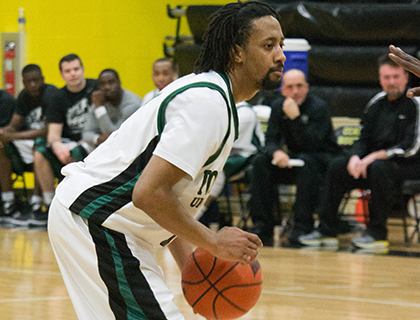 WEST MIFFLIN, Pa. -- Point Park University men's basketball lit up the scoreboard once again, this time in a 98-83 home win over Brescia (Ky.) University in the KIAC Tournament Quarterfinals Wednesday night at CCAC-South Gym. FULL STORY
Point Park men take No. 2 seed in KIAC Tournament, host Brescia (Ky.)
Feb. 22, 2016 at 11:30 p.m. ET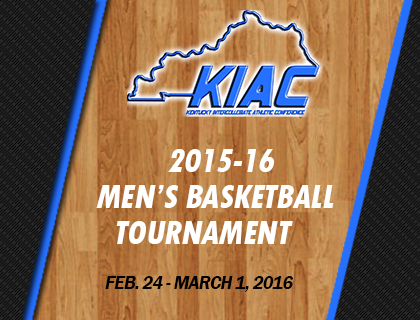 PITTSBURGH -- Point Park University men's basketball is a No. 2 seed in the KIAC Men's Basketball Tournament Feb. 24-March 1. The Pioneers (16-10, 9-7 KIAC) are riding a five-game win streak into the postseason and host No. 3 seed Brescia (Ky.) University (15-12, 9-7 KIAC) in the first round Feb. 24 at 7 p.m.. FULL STORY
Point Park men win at IU Kokomo, 99-88, clinch KIAC Tournament home game
Feb. 21, 2016 at 1:15 a.m. ET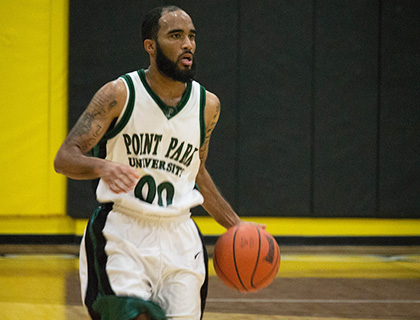 KOKOMO, Ind. -- Point Park University men's basketball revved up its third-ranked scoring offense in NAIA Division II to race out to a big lead in a 99-88 victory at Indiana Kokomo on Saturday. FULL STORY
Point Park men hold on for road victory at IU Southeast, 86-84
Feb. 20, 2016 at 2:45 a.m. ET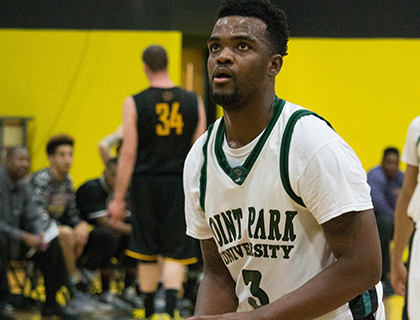 NEW ALBANY, Ind. -- Point Park University men's basketball picked up an important KIAC win on Friday night, 86-84, at IU Southeast for its fourth win in a row. FULL STORY
Pioneers shake off cold-shooting start, beat Carlow 93-82 on Senior Night
Feb. 10, 2016 at 1:30 a.m. ET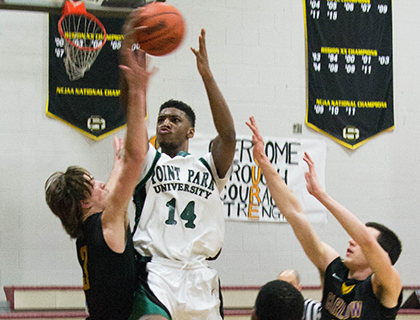 WEST MIFFLIN, Pa. -- Point Park University men's basketball shook off a cold-shooting start and beat Carlow University, 93-82, on Senior Night on Tuesday at CCAC-South Gym. FULL STORY
Williams, Konate lead Point Park to KIAC victory over Rio Grande, 92-89
Feb. 6, 2016 at 10:45 p.m. ET
 

WEST MIFFLIN, Pa. -- Jerah'me Williams scored 24 points and went over 1,000 career points in his two years at Point Park, and Fousseini Konate poured in a career-high 27 points to go along with 11 rebounds in a 92-89 home win for Point Park University men's basketball over Rio Grande on Saturday at CCAC-South Gym. FULL STORY