Point Park finishes 25th in the country at NAIA Men's Golf Championship
May 21, 2015 at 10:45 p.m. ET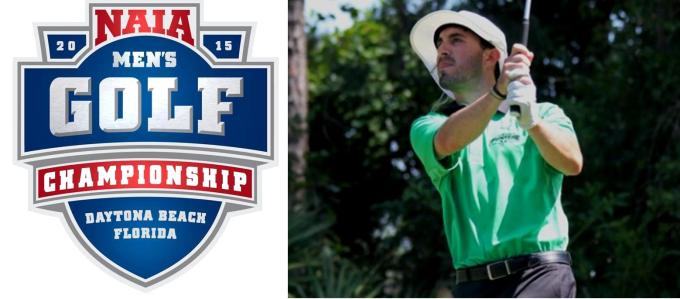 Point Park's Ben Kennedy shot 77 to lead the Pioneers in Rd 3. Photo by Brittany Lorentz, NAIA
RD 3 TEAM LEADERBOARD  /  RD 3 INDIVIDUAL LEADERBOARD  /  VIDEO RECAP  /  NAIA RECAP DAY 3  /  PHOTOS
DAYTONA BEACH, Fla. -- The Point Park University men's golf team has once again finished in the top 25 teams in the country as the Pioneers finished up their time at the NAIA Men's Golf National Championship on Thursday in 25th place in the team standings.
Point Park shot a team score of 317 in the third round Thursday to miss the cut for the top 17 teams that qualified for Friday's final round. Still, the Pioneers carded their best 54-hole score ever at the NAIA tournament with a three-day total of 920.
The Pioneers, who were competing in their third national championship in as many years, opened with a score of 309 in the first round. They followed that up with a 295 in round two to set a program scoring record in the NAIA tourney. The final-round 317 left Point Park outside the cut line.
Individually, senior Diego Ortiz had a tournament total of 9-over par, which put him just three shots off the individual cut line of 6-over for the top 40 players and ties who advanced to Friday. Ortiz, a native of Mexico City, tied for 58th place to lead Point Park's competitors in the 156-player field.
Senior Ben Kennedy, from Sewickley, Pa., led Point Park with a 77 in the third round. The only Point Park player to shoot three rounds in the 70s this week, Kennedy finished at 18-over with rounds of 79-78-77. Kennedy birdied three of his first seven holes on Thursday and made the turn at 1-over.
Senior Collin Holmes, from Avon Lake, Ohio, was the only other Point Park player in the 70s on Thursday with a 79. He carded two birdies to give him a team-high nine birdies on the week. He had rounds of 80-72-79 for 15-over for the tournament. Holmes is the only player in Point Park men's golf history to play in three NAIA national tournaments.
Ortiz's week finished with an 80 on Thursday. That came after a 3-under 69 and five birdies in the second round. Ortiz's 9-over tournament showing began with a 76 in round one. He transferred to Point Park this year after being at NCAA DII Brevard (N.C.) College.
Senior Eric Poplowski finished at 16-over par for the tournament, which was the third-best on the Point Park team behind Ortiz and Holmes. The product of Ambridge High School had an 82 in the third round. His first two rounds were very solid at 74-76 over 36 holes.
Freshman Max Kaminsky, a product of Serra Catholic High School, shot another round of 80 in round three. Altough he was 8-over for the day, he played his back nine in 2-over with seven pars. The only one of the Pioneers' competitors this week who will return next year, Kaminsky was 25-over for the tournament with scores of 81-80-80.
Point Park teed off round three at 8:55 a.m. Thursday from hole No. 10. At that point, round two had not yet been completed as weather late Wednesday did not allow round two to be completed. As Thursday started, Point Park was 28-over par and within striking distance of the cut line of 17th place. The final cutline was 35-over par after 54 holes.
For complete team and individual leaderboards from the NAIA Men's Golf National Championship, click the links above. A video recap on the NAIA Network and a written recap on NAIA.org are also available.
Follow the Pioneers on Twitter @PointParkSports hashtag #PPUGOLF. Follow the NAIA tournament @NAIA_News hashtag #NAIAGolf.
NAIA Men's Golf National Championship -- Point Park University (25th Place)
Diego Ortiz, Sr., Mexico City, 76-69-82 (+9)
Collin Holmes, Sr., Avon Lake, Ohio, 80-72-79 (+15)
Eric Poplowski, Sr., Economy, Pa., 74-76-82 (+16)
Ben Kennedy, Sr., Sewickley, Pa., 79-78-77 (+18)
Max Kaminsky, Fr., McKeesport, Pa., 81-80-80 (+25)
Team Scores 309-295-317--920 (+56)