Point Park Men's Golf opens fall season in sixth place at Allegheny tourney
Sept. 14, 2015 at 11:00 p.m. ET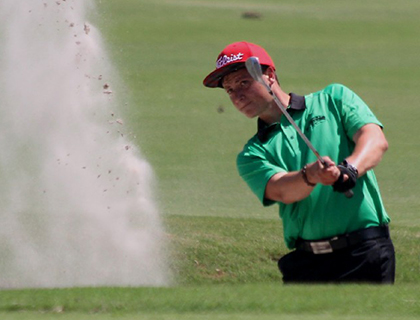 Sophomore Max Kaminsky tied for seventh place individually at Allegheny. Photo by NAIA.
PITTSBURGH -- The Point Park University men's golf team opened its fall 2015 schedule on Sunday and Monday at the Guy W. Kuhn Invitational hosted by Allegheny College at The Country Club at Meadville. The Pioneers were in third place of nine teams with a 303 after Sunday's first round. Point Park ended up in sixth place after a final-round score of 320 on Monday.
Point Park had just two returning players from last year among its five team competitors and three individuals who were entered into the Allegheny tournament. The top returner, sophomore Max Kaminsky, tied for seventh individually with rounds of 74 and 77 for a two-day total of 7-over 151.
Freshman Gage Basiletti opened with a 75 and closed with  78 to tie for 10th place. Basiletti shot 9-over in the tournament. After Kevin Loutsenhizer (76-83) in a tie for 28th, Gino DiPardo shot 78-83, and Rafael Perez shot 83-82 for Point Park.
Among the players competing as individuals from Point Park, Steven Bender had the best score with rounds of 81 and 80.
The team score of 303 in the first round put the Pioneers just three shots off the lead of team champion Allegheny, which shots rounds of 300 and 287. The Gators won by 20 shots over Clarion, which was in second place after both rounds at 300-306.
Point Park's next tournament is Sept. 20-21 at the Clarion Hal Hansen Invitational. Point Park is also scheduled to play in the KIAC Fall Preview Oct. 2-3 in Georgetown, Ky. Follow the Pioneers on Twitter @PointParkSports hashtag #PPUGOLF.