Point Park men's soccer opens 2015 season with 5-0 win over La Roche
Aug. 24, 2015 at 11:30 p.m. ET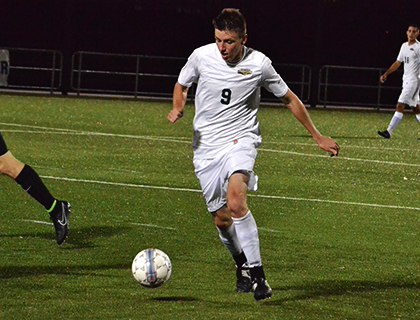 Max Flick had a goal and an assist for Point Park in the season opener.
PITTSBURGH – Point Park University men's soccer scored four goals in the second half to race out to a 5-0 victory over visiting La Roche College in its 2015 season opener on Monday night at Highmark Stadium.
Point Park (1-0) was ahead, 1-0, at halftime before putting together a flurry of goals the final 45 minutes.
Donovan Morgan, a native of Jamaica and a transfer this year from Alderson-Broaddus, made his presence felt up front with a team-high two goals from his forward position. Morgan scored in the fourth minute off a cross from Lucas Godinho, which stood as the only goal of the game for the next 53 minutes.
The second-half offense started with Max Flick providing a goal and an assist in the span of a minute. The senior from Beaver Falls, Pa., first scored in the 58th minute before setting up Morgan for his second goal in the 59th minute.
Comfortably in front, 3-0, Point Park stretched out the final score when Dominic Canello hammered home a strike from just inside the right side of the box. In the final seconds, Troy Dolanch put in a goal to make it 5-0. Paul Carr assisted on the play.
The Pioneers controlled the shots with a 21-6 advantage in that area. Pioneers goalkeeper Zak Borzovoy made six saves to register the shutout.
Point Park is off until next Tuesday, Sept. 1 when it visits Washington & Jefferson for a non-conference road game. Follow the Pioneers on Twitter @PointParkSports and Facebook.com/PointParkAthletics.