Point Park beats Penn State-Beaver, 2-1, with early goals by Ramos, Carr
Sept. 14, 2015 at 10:30 p.m. ET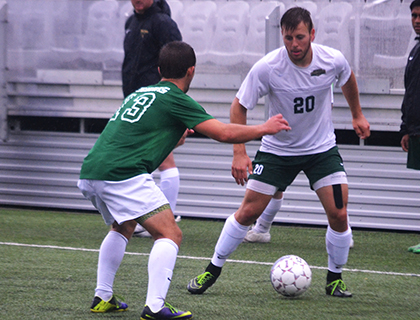 Senior Dominic Canello made an assist in Monday's win at Penn State-Beaver. Photo by Sam Robinson.
BEAVER, Pa. -- Playing its third game in five days after the first two each went to double overtime, the Point Park University men's soccer team did its damage early and had just a handful of starters play in Monday's 2-1 win at Penn State-Beaver.
Early goals by Alan Ramos in the 13th minute and Paul Carr in the 16th minute gave Point Park a 2-0 lead. The Pioneers improved to 4-2-1 through seven games and gave up just a single goal by Penn State-Beaver's Marcus Smith in the 21st minute.
Point Park was coming off a double-overtime win over Marygrove last Thursday and a double-overtime tie versus Mt. Vernon Nazarene on Saturday. The Pioneers had only half of its regular starters in the starting lineup but still came away with the victory.
It was an active night on offense with the Pioneers collecting 35 shots compared to 13 for Penn State-Beaver (0-3). Point Park had 21 shots on goal.
Bryan Kalaka picked up an assist on Ramos' goal. The goal by Carr came off a free kick after Dominic Canello assisted on the play. Zak Borzovoy made six saves as the Point Park goalkeeper.
Point Park is off until a matchup with NAIA No. 5 and KIAC preseason favorite Rio Grande (Ohio) on the road on Saturday. Kickoff is 2 p.m. in Rio Grande, Ohio.
Follow Pioneers men's soccer on the web at PointPark.edu/Athletics and on Twitter @PointParkSports hashtag #PPUSOCCER.