Point Park men's soccer 2015 schedule includes 17 games starting Aug. 24

July 21, 2015 at 3:00 p.m. ET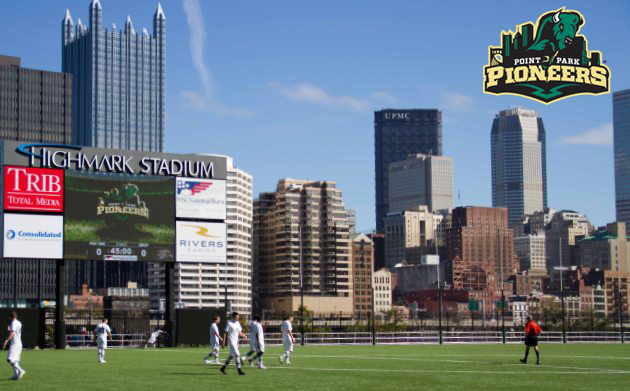 PITTSBURGH -- The Point Park University men's soccer 2015 schedule has been announced featuring 17 games starting Aug. 24 with the home opener versus La Roche (6:00 p.m.). It is the first of eight home games at Highmark Stadium, the home of the Pittsburgh Riverhounds of USL Pro and the Pioneers' home field for the third year in a row.
Point Park's 17 games include eight home games, seven road games and two games at a neutral site. It is a challenging schedule that includes three games versus teams that were ranked in the NAIA Top 25 at the end of last year and nine games versus teams that won at least 10 games in 2014.
"I believe that we have a higher-level schedule than past years," said Point Park's ninth-year head coach Jeroen Walstra. "We should be pleased with the increase of NAIA teams that we play. Many of the teams we play now are nationally strong squads."
Point Park will bring an experienced group to the 2015 schedule with many players returning from last year's team that was 15-3 overall, 4-0 KIAC and spent much of the year nationally ranked in the Top 25. Point Park reached the KIAC Tournament finals but lost to then-No. 1 Rio Grande, 3-2.
Point Park's three games versus NAIA Top 25 competition are versus No. 10 Vanguard (Calif.) as part of the Rio Grande Soccer Classic Sept. 4-5, at No. 7 Rio Grande (Ohio) Sept. 19 and at No. 12 Lindsey Wilson (Ky.) Oct. 24. All three of those teams qualified for the NAIA Men's Soccer National Championship last year.
The trip to the Rio Grande Soccer Classic Sept. 4-5 is a highlight to the early part of the schedule. There, four top teams from around the NAIA will converge. In addition to facing No. 10 Vanguard, Point Park also plays Westmont (Calif.). The fourth team is host Rio Grande, which Point Park will face on the road for a KIAC game Sept. 19.
Point Park will put its three straight KIAC Regular Season titles on the line versus a KIAC schedule that includes six conference games. The Pioneers host West Virginia Tech (Sept. 30), Brescia (Ky.) (Oct. 17) and Asbury (Ky.) (Oct. 27). They go on the road to play No. 7 Rio Grande (Sept. 19), Cincinnati Christian (Oct. 3) and Ohio Christian (Oct. 31).
An expanded KIAC now has seven teams with the addition of West Virginia Tech and Ohio Christian. West Virginia Tech, which was 17-1-1 and won the USCAA national championship, had its only loss versus Point Park. Ohio Christian was 14-9 and was national runner-up in the NCCAA.
Point Park plays nearby NCAA Division III opponents La Roche (Aug. 24), at Washington & Jefferson (Sept. 1), at Geneva (Sept. 15) and Grove City (Sept. 22). W&J is the only team in that group that did not win at least 10 games last year.
Point Park also plays NAIA non-conference foe Mt. Vernon Nazarene (Ohio) at home Sept. 12. The Cougars were 10-6-3 a year ago. Other NAIA games are home to Marygrove (Mich.) on Sept. 10 and home to Washington Adventist (Md.) on Oct. 10. The Pioneers also play USCAA opponent Penn State-Beaver on the road Sept. 14.
For the complete 2015 Point Park Men's Soccer Schedule, click the link above. Follow the Pioneers on Twitter @PointParkSports and @PPUmenssoccer hashtag #PPUSOCCER #PPUMS.