Point Park men's soccer recruiting class of 12 players added to program
Aug. 7, 2015 at 4:30 p.m. ET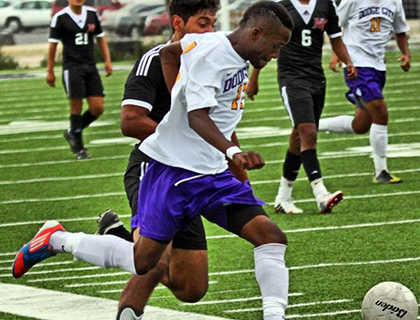 Forward Bryan Kalaka from Leicester, England, is among the 12 recruits this year. Submitted Photo.
PITTSBURGH – The Point Park University's 2015 men's soccer recruiting class has added 12 players to the program for head coach Jeroen Walstra. Those 12 players are represented by seven different countries and will begin preseason training with the returning players starting next week at Highmark Stadium.
"This is a diverse recruiting class with a lot of international players and those from different backgrounds," said Point Park's ninth-year head Jeroen Walstra. "We have added guys who will help our team. My expectation is to have continued improvement of the program."
Point Park returns many of the same players from last year's team that was 15-3 overall and ranked in the NAIA Top 25 with nine of 11 starters returning. This year's recruits add some players who will help the team right away and also those who will add depth to the team.
The following are the 2015 Point Park University men' soccer recruits:
Nawfel Bichiba, Defender, 6-2 , Fr., Sefrou, Morocco/Allderdice HS
--A 6-2 defender from Morocco and a graduate of Allderdice High School in Pittsburgh. He lettered four times in soccer playing in 52 games with three goals and 13 assists in his high school career.
John Christofi, Defnder, 5-10, Jr., Greenock, Pa./Elizabeth Forward HS
--A 5-10 defender from Greenock, Pa., and Elizabeth Forward High School. He was a two-year letter winner in soccer.
Zachary Flick, Midfielder, 5-11, So., Beaver Falls, Pa./Blackhawk HS
--A 5-11 midfielder from Beaver Falls, Pa., and Blackhawk High School. He was a team MVP and all-conference player who was a part of three WPIAL section championships. Brother of Point Park two-year starter Max Flick.
Franck Fotie, Defender, 5-7, Fr., Bafoussam, Cameroon/Allderdice HS
--A 5-7 defender from Cameroon and a graduate of Allderdice High School in Pittsburgh. He was an All-WPIAL and WPIAL all-section player. Fotie played in 40 career games, won three letters and made three assists.
Trenton Fowler, Defender, So., Mercer, Pa./Mercer HS
--A sophomore defender from Mercer, Pa., and Mercer High School. He was a District 10 second team all-star in both 2012 and 2013. He scored seven goals, five assists and 19 points as a senior in 2013.
Bryan Kalaka, Forward, 5-6, So., Leicester, England/The Lancaster School/Dodge City CC
--A 5-6 forward from Leicester, England, and a transfer from Dodge City Community College. He is a product of the Leicester City Football Academy. He was a part of a national championship for his developmental team in the 2012-13 season.
Donovan Morgan, Midfielder, 6-0, So., May Pen, Jamaica/Glenmuir HS/Alderson-Broaddus
--A 6-0 midfielder from Jamaica and a transfer from NCAA Division II Alderson Broaddus. He played in 18 games with eight starts in 2014 at A-B. He led the team in most passes completed and had 10 shots and one assist.
Walker Northcutt, Goalkeeper, Fr., Austin, Texas
--A goalkeeper from Austin, Texas, and South Texas ODP and the Lonestar Football Club.
Kieran Phoenix, Defender, 6-1, Fr., Dublin, Ireland/St. Kevin's College
--A 6-1 defender from Dublin, Ireland. He was all-state, all-conference and was named the defender of the year for two years. In 40 career games, he had 12 goals and 15 assists and was a part of four league titles.
Sam Reynolds, Midfielder, 5-7, Fr., Justin, Texas/Northwest HS
--A 5-7 midfielder from Justin Texas and Northwest High School. He was a three-year letter winner and a member of the Texas Spurs Football Club.
Nathanael Van Der Walt, Midfielder, 5-10, Fr., Paris, France/Lycee Evarisle Gulois
--A 5-10 midfielder from Paris, France. In the 2014-15 season had 14 goals and eight assists in 22 games. During the 2013-14 season amassed 12 goals and four assists in 25 games. Selected for youth teams of Paris Saint-Germain and the Racing Club de France.
Jesse Vates, Defender, 5-6, So., Pittsburgh, Pa./Brashear HS
--A 5-6 defender from Pittsburgh, Pa., and Brashear High School. He was named All-City League in soccer and football and won three letters in each sport along with three letters in track and field.
Follow the Pioneers on Twitter @PointParkSports hashtag #PPUSOCCER and #PPUMS