Point Park wins at W&J, 2-1, behind Godinho's goals, Borzovoy's save
Sept. 1, 2015 at 11:00 p.m. ET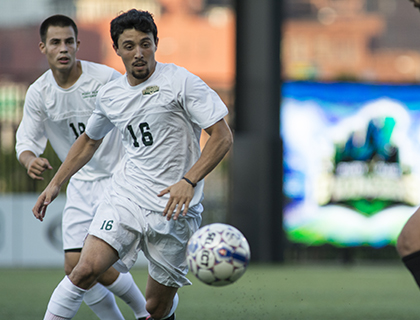 Lucas Godinho scored two goals for Point Park at W&J on Tuesday. Photo by Chris Squier.
WASHINGTON, Pa. -- Point Park University men's soccer won at Washington & Jefferson College, 2-1, on Tuesday night behind two first-half goals from Lucas Godinho and Zak Borzovoy's save on a penalty kick in the final minute of the game.
Godinho, a senior forward from Sao Paulo, Brazil, scored in the 14th and 44th minutes to give Point Park (2-0) a lead of 2-0 at halftime.
The Pioneers held on and stayed unbeaten despite Washington & Jefferson (0-1) having opportunities in the second half. None was more apparent than Justin Carter's penalty kick with 57 seconds left as a result of a handball in the area.
But Borzovoy, a 6-2 senior from Toronto, Ontario, dived to his left, reached out and snared the PK attempt with his long arms to preserve the victory. It was the only save of the game for Borzovoy, who faced nine shots (two on goal).
Point Park held a 6-1 advantage in shots and a 2-0 advantage on the scoreboard after 45 minutes. But W&J got some chances after the break with eight of its nine shots coming then compared to just five shots for the Pioneers the final 45.
Point Park had to deal with many set plays from the Presidents in the second half given the Pioneers' 10 fouls after halftime. W&J was whistled for just three fouls during that time. That was on top of seven corner kicks for W&J in the second half.
W&J cut the score to 2-1 on Justin Nolfi's chip over Borzovoy in the 60th minute. Nolfi got through the defense for the Presidents' first shot on goal at the time.
Max Flick assisted on Godinho's first goal, his second assist on the year. Those two are tied for the team lead with four points apiece through two games.
The Pioneers continue their road games in what is a three-game week. Point Park visits the Rio Grande Soccer Classic Sept. 4-5 hosted by NAIA No. 5 Rio Grande. There, the Pioneers will see No. 8 Vanguard (Calif.) on Friday at 4 p.m. and also Westmont (Calif.) on Saturday at 4 p.m. Live Stats will be provided by host Rio Grande.
Follow the Pioneers on Twitter @PointParkSports and on Facebook.com/PointParkAthletics