Point Park tops Marygrove (Mich.), 1-0 (2OT), on Ramos' goal in 109th minute
Sept. 10, 2015 at 11:40 p.m. ET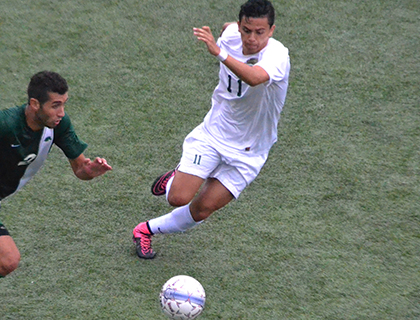 Sophomore F Alan Ramos battles the Marygrove defense on Thursday. Photo by Kevin Taylor.
PITTSBURGH -- One minute away from having to take a 0-0 tie in double overtime, sophomore forward Alan Ramos turned a potential draw into a victory with his game-winning goal in the 109th minute as Point Park University beat NAIA Marygrove (Mich.), 1-0, in double overtime on Thursday at Highmark Stadium.
Ramos, from San Antonio, Texas, took an excellent through ball from Cristian Mika and darted down the right side. Ramos entered the box, beat the outside defender and delivered a strike to the far post to win it for Point Park (3-2).
It was the goal that both teams were looking for the previous 100-plus minutes. Marygrove (1-3) put together a good attack in the second half with 10 of its 15 shots coming during the second 45. But the Point Park defense turned away many chances to keep the game scoreless and register its second shutout of the year.
The first half came at a slower pace with the teams combining for seven shots -- four for Point Park and three for Marygrove. Things picked up after halftime on the attack for both teams. A constant throughout was physical play with a total of 35 fouls and nine yellow cards whistled throughout the game.
Senior goalkeeper Zak Borzovoy made some key stops along the way to keep the Mustangs off the board. He finished with five saves. The defensive unit in front of him cleared several dangerous balls to turn away chances. None was bigger than the last stages of regulation when defender Josh Williams slid across the 6-yard line to block a shot on the back end of a 2-on-1 situation with keeper Borzovoy.
Marygrove was mounting a rush late in the second overtime when defender Matt Buckley stepped up to intercept a pass that was going to one of the Mustangs' dangerous forwards. Buckley cleared the ball with a lead pass to Mika, who took the ball on the run. Mika's through ball split two defenders and had Ramos running free for the winning goal.
For Marygrove, it is the second disappointing loss in a row as it has now lost two straight games in overtime. The Mustangs' other loss is a 2-1 defeat in which it went toe-to-toe with NAIA No. 9 Lindsey Wilson (Ky.) in the opening game of the year.
Point Park returns to action less than 48 hours after the conclusion of Thursday's double-overtime win with a home game versus Mt. Vernon Nazarene on Saturday. Kickoff is 3:30 p.m. at Highmark Stadium. Watch Live on Stretch Internet via the Game Central portal at portal.stretchinternet.com/PPU
Follow the Pioneers on Twitter @PointParkSports and on Facebook.com/PointParkAthletics