Point Park men's soccer settles for 1-1 tie (2OT) with Mt. Vernon Nazarene
Sept. 13, 2015 at 1:00 a.m. ET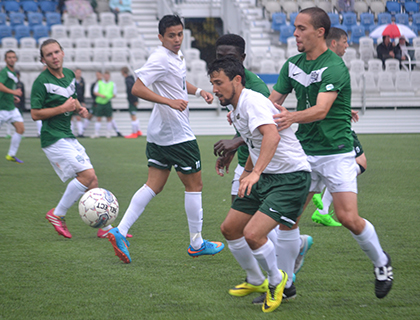 Lucas Godinho is defended by Mt. Vernon Nazarene on Saturday. Photo by Sam Robinson.
STATS / PIONEER GAMECAST (Video Report)
PITTSBURGH -- Two days after having a potential tie turned into a win, the Point Park University men's soccer team had a potential win turned into a tie on Saturday. The Pioneers settled for a 1-1 tie with visiting Mt. Vernon Nazarene in double overtime as a result of the Cougars tying the score with 21 seconds left in regulation.
Mt. Vernon Nazarene's Josh Alexander got free for a goal at the 89:39 mark to tie things up. Neither team scored in the two extra periods, so it ended in a stalemate.
Point Park (3-2-1) played an overtime game for the third contest in a row. The Pioneers were just a minute away from tying Marygrove in their last game, but they scored with one minute left the the second overtime to earn a victory. Saturday was the opposite for Point Park.
Alan Ramos, who had the game-winner versus Marygrove, earned the start at forward and made his presence felt early with an unassisted goal at the 11:54 mark. Ramos, a sophomore form San Antonio, Texas, intercepted a pass played back to the keeper and put the ball in the back of the net on a sliding attempt.
Point Park had its chances to build on the 1-0 lead -- including two goals in the first half that were called back due to offsides -- but they could not gain any more separation.
The Pioneers' defense was fine with the 1-0 lead, and it was working on its second straight shutout against a good team before Alexander's late goal. Point Park goalkeeper Zak Borzovoy made several strong stops to keep the score 1-0.  He ended up with nine saves.
Mt. Vernon Nazarene, which like Point Park has three wins through six games, is now 3-1-2 after Saturday's result.
Point Park returns to action on Monday at Penn State-Beaver (4 p.m.). The Pioneers visit NAIA No. 5 Rio Grande (Ohio) next Saturday, Sept. 19 at 2 p.m.
Follow the Pioneers on the web at PointPark.edu/Athletics and on Twitter @PointParkSports hashtag #PPUSOCCER. Click the Pioneer Gamecast link above for highlights and a full report via the Pioneers' YouTube Channel.