No. 5 Rio Grande beats Point Park in KIAC men's soccer matchup
Sept. 20, 2015 at 9:15 a.m. ET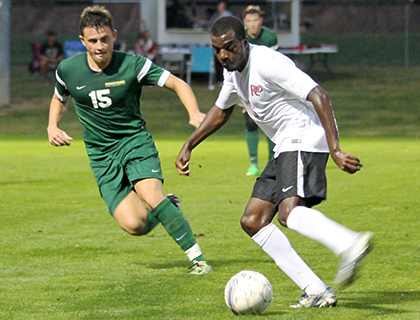 Point Park's Paul Carr (15) defends Rio Grande's Joao Paulo Antonio. Photo by Rio sports information.
RIO GRANDE, Ohio -- NAIA No. 5-ranked Rio Grande scored three goals in the final 25 minutes and two in the final 11 minutes of a 4-0, KIAC win over visiting Point Park University on Saturday night.
Rio Grande (8-0, 1-0 KIAC) remained unbeaten by building on its 1-0, halftime lead with goals by Willian Paulino in the 65th minute and by subs Ben Mendoza and Alex Haddad in the 79th and 87th minutes, respectively.
Point Park (4-3-1, 0-1 KIAC) trailed, 1-0, when Heitor De Melo scored for Rio Grande in the 30th minute. Point Park now has two of its three losses coming versus NAIA Top 25 teams with another being to No. 8 Vanguard (Calif.).
Point Park held the score at 1-0 for the first 65 minutes despite Rio Grande having a decided advantage in shots throughout. Rio Grande led in shots, 14-3, at the half. The RedStorm added on another 22 shots in the second half to lead, 36-7, for the game.
Rio Grande used 20 players in the game whereas Point Park used just three subs for a total of 14 players. Pioneers goalkeeper Zak Borozovoy made a season-high 14 saves in 90 minutes.
Point Park's next game is home versus Grove City on Tuesday with a 7 p.m. start at Highmark Stadium. Watch Live on the Point Park Sports Network on Stretch Internet at portal.stretchinternet.com/ppu