Point Park Men's T&F individuals take high places at Grove City Meet
May 2, 2015 at 10:30 a.m. ET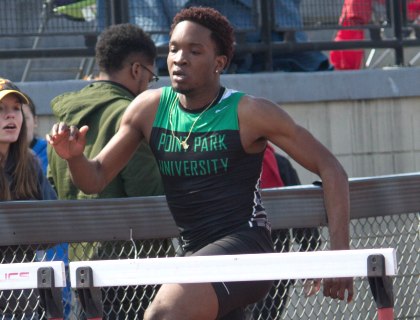 Christian Capers set a school record of 15.28 in the 110 hurdles, 0.28 off the NAIA standard. Photo by Sam Robinson
GROVE CITY, Pa. -- Point Park University men's outdoor track and field athletes set out seeking NAIA national qualifying standards on Friday at the Grove City Family Weekend Invitational. The Pioneers did not meet any NAIA marks, but they did place highly in every event they were entered.
Point Park athletes competed in eight events, and the Pioneers took second or third in seven of those.
A highlight of the day was freshman hurdler Christian Capers placing third and setting a school record of 15.28 in the 110-meter hurdles. With that time, the Jacksonville, Fla., native was just 0.28 seconds off the NAIA national meet qualifying standard of 15.00.
Sprinter DeAnthony Morgan placed second in the 100-meter dash with a time of 11.02 seconds, which was just 0.01 off his school-record time. Morgan was also fifth in the 200 at 22.62.
Chris Hunt competed in the 800- and 1,500-meter runs. He placed third in the 800 with a time of 2:06 and was second in the 1,500 at 4:19.
All-conference jumpers Jryi Davis and Shaun Berry were in action as well. Berry was second in the high jump (1.73 meters) and third in the triple jump (12.53). Davis was second in the triple jump (12.99) to edge out teammate Berry and was also third in the long jump (6.08).
Point Park athletes will have one more chance to establish NAIA marks. The Pioneers compete next Friday, May 8 at the Allegheny College Invitational.
Follow the Pioneers on Twitter @PointParkSports #PPUTF