Guarnaccia places 5th to lead Point Park Women's XC at Duquesne Duals
Sept. 6, 2015 at 7:00 a.m. ET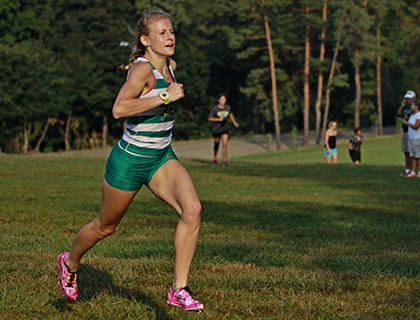 Katie Guarnaccia opens up a lead at the Duquesne Duals on Saturday. Photo by Liz Berie.
PITTSBURGH -- Competing on the local stage against NCAA Division I schools, the Point Park University women's cross country team opened its 2015 season on Saturday at the Duquesne Duals. Sophomore Katie Guarnaccia led the Pioneers with a very impressive showing with a fifth-place finish and a 5K school-record time of 18:49.
Guarnaccia, from North Allegheny High School, led the race for the first two miles and was only caught at the end. There were five NCAA Division I schools at the event, which was held at Schenley Park. There were only six runners in the field who broke 19:00 with four of them from Duquesne, one from Pitt and Guarnaccia from  Point Park.
Guarnaccia shattered the Point Park women's 5K school record set last year at the KIAC Championship Meet in Schenley Park, a record she shared with teammate Kelsey Wilkins at 19:24.
Wilkins was the second Point Park finisher at Duquesne with a time of 20:29 for 45th place of 100 runners. Freshman Madison Przicina was next for the Pioneers in 55th place at 20:41. Emily Maxwell (20:50) and Kara Rohlf (21:41) completed the top five scorers for Point Park.
For the complete results, click the link above. The Pioneers continue the season next Saturday, Sept. 12 at the Bethany (W.Va.) Invitational. Follow the Pioneers on Twitter @PointParkSports hashtag #PPUXC