Point Park's Guarnaccia is KIAC Women's Cross Country Runner of the Week
Sept. 8, 2015 at 9:30 p.m. ET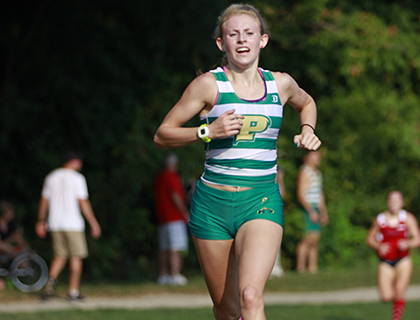 FLORENCE, Ky. -- Katie Guarnaccia of Point Park University was selected the KIAC Women's Cross Country Runner of the Week for finishing fifth of 100 runners at the NCAA Division I Duquesne Duals at Schenley Park, the site of the 2014 KIAC Championship Meet.
Guarnaccia, a sophomore from Pittsburgh, Pa., raced to a school-record time of 18:49 in the 5K, which was 24 seconds faster than the winning individual time in the KIAC from last year. She led the first two miles of the NCAA Division I meet and was only caught at the end.
The four runners to finish ahead of Guarnaccia were all from NCAA Division I -- three from Duquesne and one from Pitt. She made a wrong turn to lose four seconds midway through the race. The course was set up with more hills and a slower track than at last year's conference meet.
Of the 100 runners in the race, Guarnaccia was one of only five runners among the Top 25 medal winners who were not from NCAA Division I. Point Park is back in action Saturday at the Bethany (W.Va.) Invitational.
Follow KIAC Women's Cross Country at KIACSports.com, on Twitter @KIACSports and on Facebook.com/KIACSports.