Point Park women's XC takes 2nd of 17 at PSU-Behrend, Guarnaccia wins again
Sept. 20, 2015 at 8:00 a.m. ET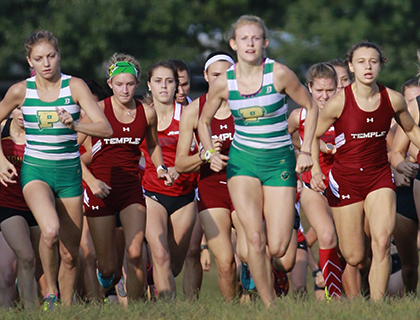 Katie Guarnaccia (right) won her second meet in a row on Saturday. Photo by Liz Berie.
ERIE, Pa. -- Point Park University women's cross country placed second of 17 teams on Saturday at the Penn State-Behrend Invitational, and sophomore standout Katie Guarnaccia cruised to another individual victory, her second win in a row.
Guarnaccia, from North Allegheny High School, registered a 5K school-record time of 18:46 to beat the rest of the field by 20 seconds. She bested her own record of 18:49 set Sept. 5 at the Duquesne Duals when she placed fifth at the NCAA Division I meet. Last week, Guarnaccia was first at the Bethany (W.Va.) Invitational with a 6K time of 22:56, good for a school record.
The Point Park team on Saturday was not at full strength but still came up with a high finish of second place. Emily Maxwell placed in the Top 10 for the second week in a row as her time of 20:08 was good for fifth individually.
Point Park had four runners earn medals in the Top 25 placements, including freshman Madison Przicina in 20th place at 21:10 and freshman Kara Rohlf in 22nd place at 21:14.
The Pioneers were without Kelsey Wilkins due to injury and also Ashley Czerniewski-Hagan due to class conflicts. Despite missing those two NAIA national qualifiers from last year, it was a team effort to finish second.
John Carroll won the team title by a wide margin with 27 points. Point Park was next with 101 followed by Clarion with 119 and host PSU-Behrend with 131.
Madison Elsesser was the fifth Point Park runner to finish with a time of 23:303 (64th place). Rachel Hinojosa was next at 26:53 (105th place). Also competing for Point Park were Kemi Olugbakinro (27:51) and Brittany Maniet (30:59).
Point Park's next meet is Sept. 26 at Lock Haven University. For complete results from PSU-Behrend, click the results link above. Follow the Pioneers on Twitter @PointParkSports and on Facebook.com/PointParkAthletics