Quigley Catholic's Kaitlyn Smith signs with Point Park women's basketball
May 15, 2015 at 4:00 p.m. ET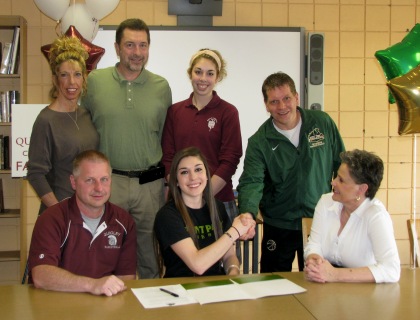 Kaitlyn Smith shakes hands with Pioneers head coach Tony Grenek after signing with Point Park.
PITTSBURGH -- Kaitlyn Smith, a 5-9 guard from Quigley Catholic High School, has signed with Point Park University women's basketball and head coach Tony Grenek. She will be a freshman for the upcoming 2015-16 season.
Smith was a star player at Quigley with 1,076 career points. During her high school career, she was twice named first-team WPIAL all-section and was also named section MVP.
Smith had averages of 12.6 points, 7.0 rebounds, 6.2 assists and 3.2 steals per game. She was a part of three straight section championships and a trip to the PIAA state playoffs and a 20-6 overall record her senior season. Recently, she was a participant in the Roundball Classic. She is also a past MVP of the Quigley Classic.
"After watching Kaitlyn for roughly five minutes, and I knew I wanted her in a Point Park uniform," said coach Grenek. "She has all the intangibles in a point guard that I am looking for. She works her tail off on every possession, she dictates the tempo, she's unselfish, she's vocal, she's a gym rat, she can handle criticism and most importantly, she despises losing. Kaitlyn also maintains a 4.5 grade point average so she obviously gets it done the classroom as well. I'm looking forward to coaching her."
Point Park women's basketball is a member of the NAIA and the Kentucky Intercollegiate Athletic Conference. The Pioneers have had recent success with a record of 102-24 (.809) the last four years under Grenek. The Pioneers won three straight conference championships and qualified for the NAIA Division II National Championship three straight years from 2011-14.
Point Park is coming off a 25-5 record last year, which included an appearance in the KIAC Tournament semifinals. Follow the Pioneers on Twitter @PointParkSports #PPUWBB #PPUHOOPS