Point Park women's basketball adds transfer Angelina Starr (G, 5-8, Soph.)
July 13, 2015 at 4:15 p.m. ET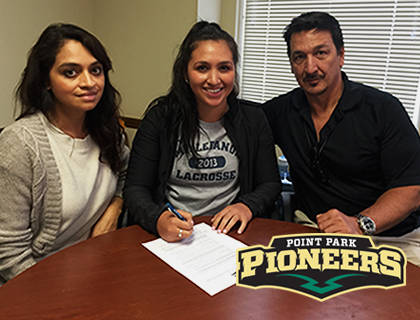 Transfer Angelina Starr with parents Michael and Liliana Starr. PPU athletics photo.
PITTSBURGH -- Point Park University women's basketball and head coach Tony Grenek have added transfer Angelina Starr, a 5-8 guard from NCAA Division II Belmont Abbey (N.C.). Starr, from Polk, Pa., was a two-time PIAA Class AAA all-state player at Franklin Area High School and will be a sophomore at Point Park in 2015-16.
Starr is the second all-time leading scorer in Franklin Area history with 1,598 career points. A four-time all-region selection and a former Regional Player of the Year, she averaged 15.4 points, 7.3 rebounds and 4.2 assists per game in high school.
Starr earned All-District 10 honors two times. That included an average of 21.3 ppg as a senior, which led District 10. Franklin won the District 10 championship two times during her career.
"Angelina is an excellent signing for Point Park," said Pioneers head coach Tony Grenek. "She's an excellent all-around player who was named to the all-state team twice while in high school. She comes from an excellent high school program at Franklin Area. Angelina's capable of doing a lot of things on the basketball court. She's also capable of making the deep three-ball, and she should make an immediate impact for us."
Starr joins a Point Park team that has two starters returning from the 2014-15 team that went 25-5 overall and reached the semifinals of the KIAC Tournament. The Pioneers are 102-24 (.809) in the four years under coach Grenek with three appearances in the NAIA DII national tournament 2011-14.
Follow the Pioneers on Twitter @PointParkSports hashtag #PPUHOOPS #PPUWBB and Facebook.com/PointParkAthletics