Updated: May 25, 2017
2D Digital Animation Camp
PROGRAM FULL
Program Limited to 15 Students
Number of openings left: 0
Registration Form
---
What is Digital Animation?
Have you ever watched The Simpsons, Family Guy, Speed Racer, Bugs Bunny and Avatar The Last Air Bender. Well, these are just a few examples of digital animation.
Spend a week learning the skills required to breathe life into the characters and stories that exist in your imagination.
This intensive five-day workshop explores the art of illustration, animation and the creation of worlds for the characters you imagine. Using Toon Boom Software, students will develop characters, learn the concepts and techniques of animation, and watch the world of their imaginations come to life.
Who's Eligible: Students entering grades 9-12 or current graduates

Date: July 17-21, 2017 (1 week)
Tuition
$550: Commuters (includes buffet lunch)
$900: Resident Students* - Room, board and tuition (includes three meals per day).
*Students must be at least 16 years of age to live on campus.
A non-refundable deposit of $100 is required to reserve/ hold your spot.
Schedule
Classes will be held from 9:30 a.m. to 4:30 p.m. Monday-Friday. Lunch break will be from noon to 1 p.m.
Each day will consist of intensive hands-on work in computer labs. There will be screenings of animated works throughout the week.
Day 1: Principles of animation, screening of animation, intro to character development and movement.
Day 2: Creating the character for animation and rigging the character for movement.
Day 3: Animating the character.
Day 4: Creating the character's world, designing backgrounds and special effects.
Day 5: Bringing characters and backgrounds together and finalizing the animation.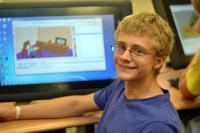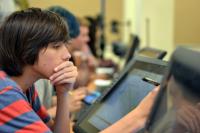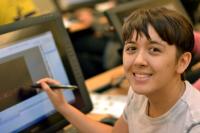 Registration Form
Participation Agreement
(All registered students will need to complete the participation agreement.)
PLEASE NOTE: A $100 non-refundable deposit is required with the registration form. If the program becomes full prior to receiving your registration, your deposit will NOT be processed, but the student will be placed on a wait list. Should another student drop out, we will call you to check if the student is still interested. If so, we will deposit your $100, if not we will return your deposit since you were never officially registered for the program. Please call 412-392-3457 with any questions. The non-refundable deposit is only valid for confirmed registered students.
Also Available

For more information, contact us at: 412-392-3456 or mshahen@pointpark.edu