Guarnaccia qualifies for NAIA nationals to highlight Point Park at Allegheny
May 14, 2016 at 9:15 a.m. ET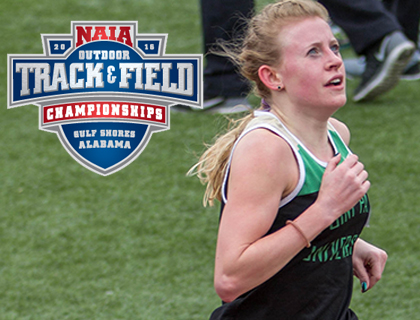 Katie Guarnaccia qualified for NAIA nationals in 10,000 meters at Allegheny. Photo by Liz Berie.
MEADVILLE, Pa. -- Point Park University sophomore distance runner Katie Guarnaccia continued to add to her already-decorated career with Friday night's qualification to the NAIA Women's Outdoor Track & Field National Championship in the 10,000 meters at the Allegheny Gator Invitational. 
The 10,000 meters was the last event with a start time of 9:00 p.m. on Friday the 13th. Guarnaccia raced to a school-record time of 37 minutes, 31.97 seconds to place third and meet the NAIA qualifying standard. She beat her previous record by 50 seconds in the late-night performance, and that time is ranked 12th in the nation for NAIA women's outdoor track & field. 
Guarnaccia is now a four-time national qualifier in cross country and track and field. She is the first-ever qualifier in school history for the NAIA Outdoor Track & Field National Championships, which will be held May 26-28 at Gulf Shores, Ala.
Guarnaccia's 10K highlighted Point Park's performances on Friday at the Allegheny Gator Invitational, which was the last chance for individuals to qualify for NAIA nationals. Any individual who meets the qualifying standard goes to the NAIA meet. 
The Pioneers had other performers come close to qualifying. Olukemi Olugbakinro placed third in the 200 meters with a time of 26.22, which was 1.17 seconds off of the national pace.
Kiana Daley competed in the shot put and discus. She broke her own school record in the discus at 40.68 meters to place fifth. She was sixth in the shot put at 11.41 meters. In both events, she was less than two meters away from nationals qualifying.
Ebony Davis competed in the 400 meters and placed fourth with a time of 1:00.78. 
Follow the Pioneers on Twitter @PointParkSports hashtag #PPUTF and on Facebook.com/PointParkAthletics.