Gathering includes trivia contest on global traditions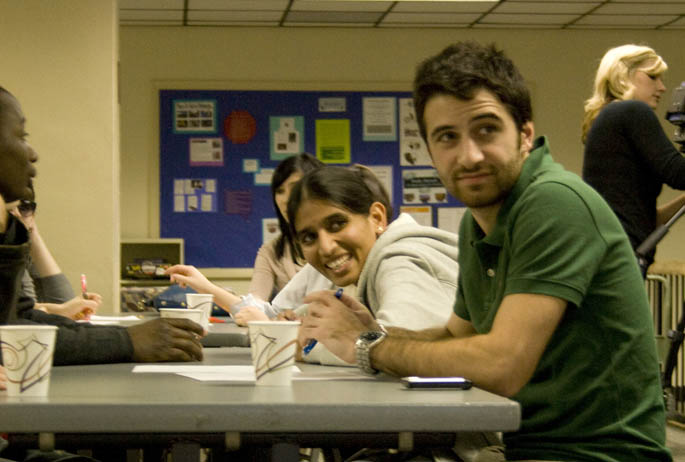 Point Park's international students, joined by U.S. students with an interest in global issues, celebrated wintertime holidays from around the world during a "Holly Days of The World" evening in early December.
The festivities drew a mix of international and domestic students, including Point Park students who live on the Global Perspectives Living and Learning Community floor and members of the International Club, a student group.
The Holly Days participants gathered in Lawrence Hall's fourth floor lounge to enjoy international foods and desserts, good conversation and a welcome break from studying. The students also competed in Trivia Game, answering questions about holiday traditions from different countries.
Point Park's Office of International Student Services and Enrollment hosted the Holly Days of The World event, complete with a colorful presentation on the international holidays including Christmas, Hannukah, Spring Festival, Eid al-Adha, Kwanzaa, Saint Nicholas Day and Diwali.  The presentation included holiday characters associated with some of those holidays, as well as traditional foods served during holiday celebrations.
For Trivia Game, teams of students tackled multiple-choice questions about the different holiday celebrations. The winners received gift cards to local establishments.
This fall, Point Park has 23 undergraduate students from seven foreign countries --   Austria, Brazil, Canada, Chile, Germany, the Republic of Korea and Sweden -- and 38 graduate students from eight countries -- Canada, Indonesia, India, Kenya, Rwanda, Syrian Arab Republic, Turkey and Zambia.
To learn more about opportunities for international students at Point Park, visit the Office of International Student Services and Enrollment Web page.
Photos by Bethany Foltz