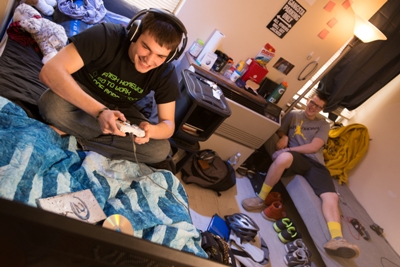 On-Campus Living for Freshmen
Thayer Hall is a 10-story traditional residence hall that accommodates 188 freshmen on the third through eighth floors.  Five of the floors are coed, and one is for females only. Rooms are available for two or three people.
Each floor has two community bathrooms, one for women and one for men, and a laundry room (FYI: community bathrooms means you share the facilities and have to keep them neat, but you don't have to clean them!).
A wireless study lounge is located on the second floor.
How is my room outfitted?
In Thayer Hall, each room has its own heating and air conditioning unit.  You're wired, too, with one Ethernet connection per person and one cable jack in each room (all free as part of your housing contract).
Furniture includes (per person):
twin bed
desk
chair
dresser
closet 
You are welcome to bring things to make your space your own.Here's a list of some things you can bring (and some things you cannot bring).
Photo Gallery: Thayer Hall Double and Triple Rooms
Photos by Victoria A. Mikula, junior mass communication major

Video: Meet Thayer Hall Resident Adam Valen

Video by Kelsey Sylvester and Damian Winterbottom, cinema and digital arts majors.
What Else Is in Thayer?
Thayer Hall is also home to classrooms and University offices, including the School of Communication, Office of the Registrar, Health Services, Computer Lab, Financial Aid, Student Accounts, and Graduate and Adult Enrollment.
Thayer Residential Floor Plan