Point Park signs Christian Del Greco (G, 5-11, Fr.) from Seton-La Salle HS
May 29, 2015 at 4:30 p.m. ET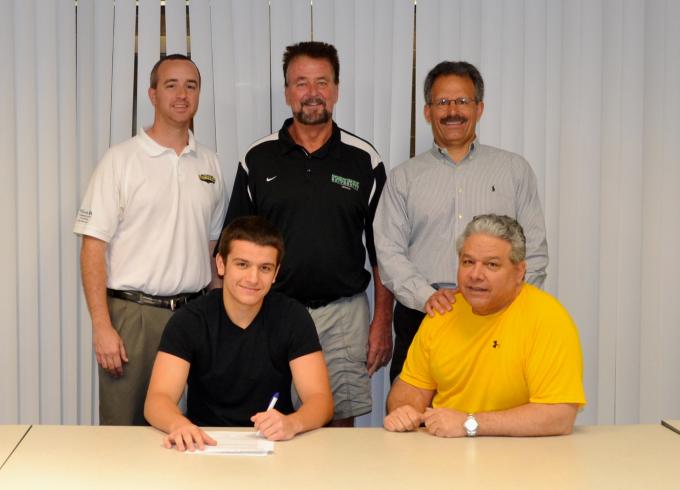 Pictured: Christian Del Greco with his father, George Del Greco (seated), and uncle Robert Del Greco (back row, at right). Point Park head coach Bob Rager (back row, center) and assistant AD/SID Kevin Taylor also pictured.
PITTSBURGH -- Point Park University men's basketball and head coach Bob Rager have announced the signing of Christian Del Greco, a 5-11 guard from Seton-La Salle High School, who will be a freshman for the Pioneers this coming 2015-16 season.
Del Greco averaged 14.0 points and 7.0 assists per game as the point guard for a very successful Seton La-Salle High School program that went 53-6 the last two years with him as a starter. He was named WPIAL all-section two times.
Seton-La Salle won the WPIAL Class AA championship and was the state runner up in the PIAA playoffs in his junior year of 2013-14. The Rebels were 29-2 (12-0 section) that year. In his senior year of 2014-15, Seton-La Salle was 24-4 (13-1 section), was a WPIAL finalist and a state playoff participant.
"Christian comes from a winning program, and his contribution was exceptional," said Point Park head coach Bob Rager. "He loves basketball, he's a good shooter, and he has confidence. It's now up to him to put in the work to take his game to the college level. With hard work and determination, I think he can contribute well to our program."
Point Park is a member of the NAIA and the Kentucky Intercollegiate Athletic Conference. The Pioneers will begin their 27th year under coach Rager in 2015-16 coming off a trip to the KIAC Tournament finals last season. The Pioneers have three starters returning from the 2014-15 team that was 16-13 overall and came within one game of the NAIA national tournament.
Follow the Pioneers on Twitter @PointParkSports #PPUHOOPS #PPUMBB