more news
School of Communication Students Travel Abroad to Study Media Landscape in Germany
Friday, June 28, 2013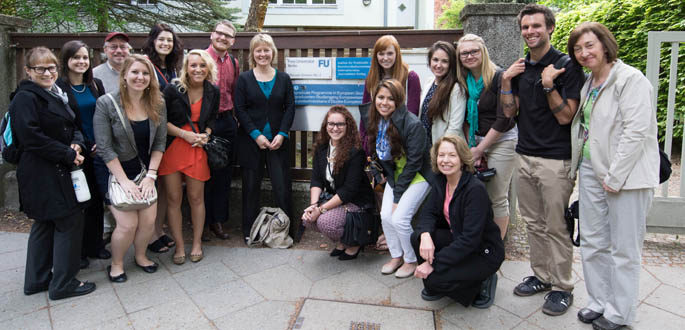 Point Park University students and faculty at Freie University of Berlin.
School of Communication students and faculty enjoyed 12 days in Germany learning first-hand about the media, history and culture in Munich, Berlin and Salzburg. The educational trip is part of the spring semester International Media class, which combines classroom preparation in the spring and study of media in a designated country at the end of the semester.
While abroad, the group of 11 students and four faculty members attended lectures about the influence of the media on the German people during World War II and the fall of the Berlin Wall. They met with industry professionals at Die Welt (newspaper), Süddeutsche Zeitung (newspaper), Deutsche Welle (international broadcaster), Deutsche Presse-Agentur (news agency), ZDF Hauptstadtstudio (television), Ketchum Pleon (public relations agency), Freie University, Munich Tourism office and the BMW Munich headquarters and museum.
Historical and cultural visits included Dachau Concentration Camp, Marienplatz, the Reichstag building and the Neuschwanstein Castle.
Here's what students and faculty had to say about their experience:
"Talking to German professionals in the journalism field about the future of print and the Internet was a calming experience. They didn't necessarily have answers to all of the questions journalists are faced with today, but their approach to change was more flexible. I think students who adopt that flexibility will be better suited for their future job in journalism." - Connor Mulvaney, photojournalism major.
"The most beneficial experience for me was our trip to the Dachau Concentration Camp. There is a lot of tangible intensity there, and it was emotionally challenging. In regards to the entire class, the work we did was very manageable, and there was so much to take away from the trip. It can be difficult to travel when you are a student, but if you can it's the most rewarding thing." - Alexa Blanchard, multimedia major.
"The trip to Germany was marvelous, and our group felt so comfortable and welcomed at all our media visits. Students study history all the time and hear lectures, but to see a country that has been through so much hardship and regrouped to become a major European country again is something else entirely. We've never toured a concentration camp, and that experience was very emotional. The weather that day was sunny and bright in a place of such misery." - Helen Fallon, professor of journalism and director of the Honors Program.
"The experience visiting nearly every significant media organization in Germany was simply amazing. Our hosts were astute and insightful about their role in their national media system. Their media is so different from our own. It was a great surprise to our students that social media and smart phones don't play a very significant role in German media culture, even for younger folks! I was also impressed with the professionalism and curiosity of our own students as we explored each outlet." - Aimee-Marie Dorsten, Ph.D., assistant professor or journalism and mass communication.
To learn more about their trip to Germany, check out the student-created website for blogs and photos. During the fall semester, an exhibition of their work will be displayed on campus. Watch for updates on the School of Communication news page.
Photos by Connor Mulvaney, junior photojournalism major

More About: journalism, photojournalism, photography, Honors Program, multimedia, International media trip, faculty