Please note: 2019 registration is closed. Information and registration for 2020 coming soon.
2D Animation Camp
July 15 - July 20, 2019
Updated: Apr 26, 2019
2D Animation
Program FULL

What is 2D Animation?
Have you ever watched The Simpsons, Family Guy,  or Bob's Burgers?   How about Lion King, Beauty and The Beast, or The Little Mermaid? Well, these are just a few examples of 2D animation.  2D animation is extremely popular in  mobile gaming, commercials or TV series (for kids and adults).
The Program
Want to learn how to make your own animated cartoons? Come and learn the fundamentals of 2D CHARACTER ANIMATION at Point Park University this summer. In this 5 day intensive workshop, led by Jonathan Trueblood, students will explore the art of 2D Animation, using the industry standard software.  Learn how to take a character and bring them and your world to life.   This class culminates in a screening of all final projects for family and friends on the last day. This class is intended for students interested in learning the process of animation.
Who's Eligible: Students entering grades 9-12 or current graduates

Date: July 15 - July 20, 2019 (5 days)
Tuition
$550 Commuters (includes daily lunch buffet)
$998 Resident Students* - room, board and tuition (includes three meals per day).
*Students must be at least 16 years of age to live on campus.
A non-refundable deposit of $100 is required to secure your spot. Full payment due June 2.
Check-In
Check for 2D animation will be in Academic Hall on Monday, July 15 at 10 am.  The address is 201 Wood St, Pittsburgh, Pa 15222.   Academic Hall entrance is on the corner of Wood St and Third Ave.  
Classes will be held between 9:30 a.m. to 4:30 p.m. Monday - Friday with a lunch break.
Each day will consist of intensive hands-on work in computer labs. There will be screenings of animated works throughout the week.
Day 1: Principles of animation, screening of animation, intro to character development and movement.
Day 2: Creating the character for animation and rigging the character for movement.
Day 3: Animating the character.
Day 4: Creating the character's world, designing backgrounds and special effects.
Day 5: Bringing characters and backgrounds together and finalizing the animation.
Registration Form
Participation Agreement
(All registered students will need to complete the participation agreement.)
Checks are made payable to Point Park University
Mailed to: Point Park Community Classes - 201 Wood St - Pittsburgh, PA 15222
PLEASE NOTE: A $100 non-refundable deposit is required with the registration form. If the program becomes full prior to receiving your registration, your deposit will not be cashed and the student will be placed on a wait list. Should another student drop out, we will call you to check if the student is still interested. If so, we will deposit your $100, if not we will return your deposit since you were never officially registered for the program. Please call 412-392-3457 with any questions. The non-refundable deposit is only valid for confirmed registered students.
For more information, contact us at: 412-392-3456 or mshahen@pointpark.edu
---
Several students shared why they chose to attend this year's camp, what they learned and what is was like to spend the week on a college campus. Read on to learn more.

Meet Luke Tiday, Cumberland Valley High School
"I chose to attend the animation camp at Point Park to learn about traditional animation and to learn the techniques that could transfer to other types of animation.  This camp was worth every penny."

Meet Eva Vislisel, Pittsburgh Creative and Performing Arts School
"The traditional animation camp was fun, interesting and stimulating! If you're interested in learning more about animation, this camp is very informative and allows your creativity to flourish."

Meet Aiden St. Clair, Ward Melville High School
"Animation camp was fun, constructive and a great start for me to learn the basics of animation. I liked working on the 2D animations because I learned how to make my art come alive."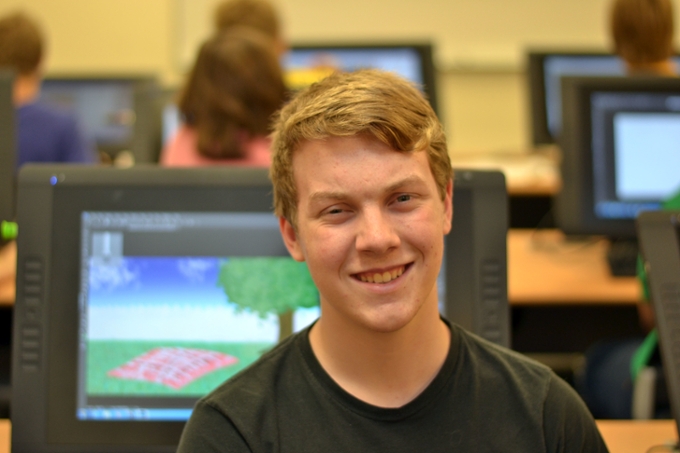 Meet David Coole, Tunkhannock Area High School
"It was an interesting experience being on a college campus in Downtown Pittsburgh for someone such as myself who lives in a rural area. I really liked being in an environment where my classmates appreciated and enjoyed animation as much as I do."