Please note: 2019 registration is closed. Information and registration for 2020 coming soon.
Updated: Apr. 18, 2019
Open to High School Students Grades 9 through 12 or Recent Graduates
---
PROGRAM - June 24 - June 28 (5 Day Workshop)
From video games, to super hero films such as The Avengers, to animated films by Pixar and DreamWorks, computer animation is everywhere.
In this course, led by Jonathan Trueblood, students will explore the core techniques needed to create 3D models and animation.  Students will learn the basics of how to plan a Cinema 4D project, how to animate the camera, add lighting, create and apply materials, organize and render the project, and more.  This class culminates in a screening of all final projects for family and friends on the last day. This class is intended for students interested in learning the process of animation. Easy to learn and extremely powerful: Cinema 4D is the perfect learning tool for all 3D artists who want to achieve breathtaking results.
 TUITION
Commuter Student: $550 (includes daily lunch)
*Resident Student: $998 (includes room and three meals per day)

*Students must be at least 16 years of age to live on campus in a residence hall.
Performing Arts Community Classes
Call 412-392-3456
Email: mshahen@pointpark.edu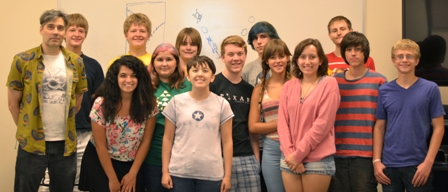 Earn a college degree:
B.A. degrees in animation and visual effects