Announcing the Rowland School of Business
Point Park has announced the naming of its School of Business to the Rowland School of Business, honoring the family of the late George and Kathleen White, the University's largest benefactors to date. The formal announcement was made on campus on April 18, with academic leaders, administrators, faculty, students and corporate and community partners in attendance.
Read more about the new Rowland School of Business at Point Park University.
All Business
Innovation in business education is, and will continue to be, a driving force at Point Park, according to Stephen Tanzilli, J.D. In his role as dean of the Rowland School of Business, Tanzilli has broad oversight of all undergraduate and graduate academic programs, including informational technology, management and accounting as well as the sports, arts and entertainment management (SAEM) program, which includes such innovative learning efforts as a dedicated classroom at Stage AE on Pittsburgh's North Shore and the Pioneer Records label.

Read more and see a video with Steve Tanzilli, J.D., dean of the Rowland School of Business.
Star Explorer
As an astrophysicist, astrobiologist, and science educator, assistant professor of physics Brendan Mullan, Ph.D., didn't come to Point Park with the idea that he'd turn every student into a fan of physics, but rather that he might incorporate scientific thinking into their daily lives. "In this rapidly changing world, the most important skills in your professional life are to know how to ask questions, troubleshoot problems, and argue with quantifiable evidence and conviction," he says. "My task is not to teach physics for future physicists, but key physics-related skills for everyone."
Meet Brendan Mullan and read about his innovative approach to science education.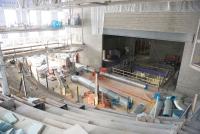 Open Seating

Point Park University's new Pittsburgh Playhouse continues to take shape on a 1.6 acre parcel in Downtown Pittsburgh. Here's a view inside the evolving main stage theater, situated along Forbes Avenue across from the Tower at PNC Plaza. The new Playhouse will be a 24/7 operation, with three different academic theatre spaces, a large scene shop, sound stage, prop shop, costume shop and café.
Look inside the new main stage theater under construction on Forbes Avenue.

Around the Globe
Dozens of former and current student journalists joined together on campus on March 18 to celebrate the 50th anniversary of The Globe, Point Park's independently run student newspaper. They shared memories and took a look back through five decades of student news gathering, opinion pieces, photography and more in The Globe.
Read about the alumni celebration of the 50th anniversary of The Globe.

Home Court Advantage
To say that Ja'Nia McPhatter has accomplished a lot at Point Park would be an understatement. She finished her playing career with Pioneers women's basketball after the 2016-17 season, during which she was a star player and an outstanding student. And she did so while overcoming two different season-ending injuries along the way. A top student, she compiled a 3.87 grade-point average as a pre-med major during her undergraduate studies. McPhatter is currently working on her M.B.A. with a concentration in health systems management, and she plans to pursue medical school.
Read about scholar-athlete Ja'Nia McPhatter and her accomplishments on the court and in the classroom.