Point Park in Pittsburgh Magazine's Salute to 40 Under 40 for 2015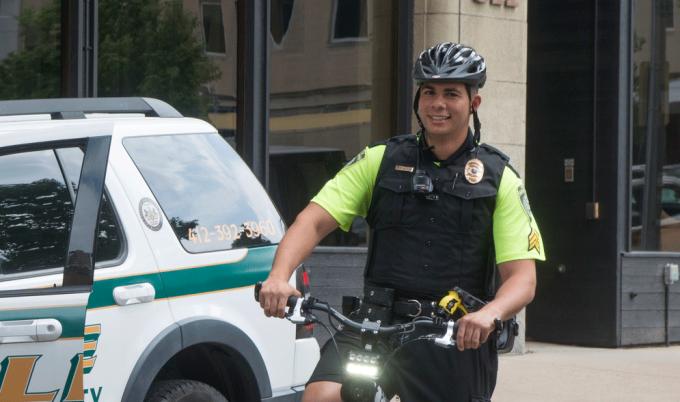 The Point
Winter 2016
Point Park was well-represented in Pittsburgh Magazine's 2015 celebration of 40 Under 40, recognizing the accomplishments of young professionals in the region.
Honorees included Nicholas Black, a lieutenant with Point Park's campus police (pictured above). The magazine noted that "Black often is the face parents meet at student orientation and the face their kids see when someone needs help. [He] reaches out to students with drug and alcohol classes, CPR and first-aid training, and he teaches the vital "Refuse to Be a Victim" crime-prevention course at the downtown campus. His community work includes volunteering with the local YWCA, the New Kensington Hill Neighborhood Watch Group, Special Olympics and the Salvation Army. He's also Point Park's liaison with Pittsburgh Action Against Rape."
Alumna Olivia Benson (BUS '08) was recognized for her work as program manager for The Efficiency Network, which coordinates energy-saving projects with companies and government entities. She was press secretary for Dan Onorato's campaign for governor, worked in the press office of former U.S. Rep. Jason Altmire and was communications director for Allegheny County Executive Rich Fitzgerald's campaign in 2011. Another alumna,
Princess Rose Hughes (A&S '09, BUS '10) was honored for her work as a parent organizer for the Hill District Education Council. The magazine noted, "More than half of the students at Pittsburgh Weil PreK-5 school come from disadvantaged homes. One advantage they can claim is the person they call "Miss Princess," a young woman who overcame her own hardships to earn a bachelor's degree in criminal justice and master's degree from Point Park University…. Hughes helps parents to engage with the school community while promoting positive self-image and conflict resolution strategies among various groups."
Student Michelyn Hood Tinor, who is pursuing a master's degree in media communication at Point Park, was honored for her work as a representative with Pfizer, the host of Mount TV, and founder and CEO of The Pittsburgh Spot, "a website that features short profiles of everyone from wedding coordinators to ice-cream entrepreneurs. The spots draw more than 7,000 discrete viewers at pghspot.com."
Former student Kevin L. Carter, CEO of the Adonai Center, Inc. was recognized as a "… standout at Point Park University, he worked as a community relations officer for state Rep. Jake Wheatley and later founded the Adonai Center, Inc. [which]guides young African-American men at five different sites. As Adonai Fellows, the young men are taught to be leaders, staying clear of the violence and dysfunction Carter witnessed growing up in the 1990s."
Read Pittsburgh Magazine's salute to the 2015 40 Under 40.
Photo of Point Park Police Lieutenant Nick Black by Jim Judkis
The Point is a magazine for alumni and friends of Point Park University