Ron "Moondog" Esser is Champion of Live Music and Regional Food Banks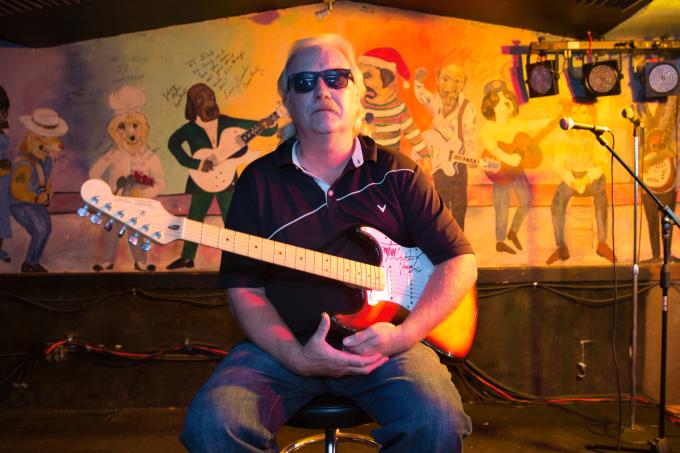 The Point
Winter 2016
In 1989, when he opened a music club in Blawnox, Ron "Moondog" Esser (COM 1983) would work 16-hour days, and often felt hopeless. Booking national bands and attracting crowds to a former shot-and-beer bar wasn't easy. And the club - called Moondog's for his childhood nickname - drew so many noise complaints that one day a police officer handcuffed Esser and put him in jail for an hour. The struggle took a toll on him. "I spent many nights literally in tears."
Whenever he felt like quitting, Esser would blare the song "I Ain't Going Down," the hit of local rocker, Joe Grushecky, on the jukebox.
That never-say-die attitude paid off. Moondog's is a popular club that showcases local musicians such as Grushecky and Norm Nardini. He also brought in national acts such as Joe Bonamassa, Keb' Mo' and The Clarks before they became famous. The club has a devoted following and is a beloved fixture in Blawnox. Esser also runs a diner called Starlite Lounge, whose pierogies were praised in the Food Network show, Diners, Drive-Ins and Dives.
Feeding the Hungry
But Esser is much more than a successful businessman and a champion of live music. He has helped raised more than $2 million for the Community Food Bank as chairman of the Pittsburgh Blues Festival for the past 21 years. He also has helped launch two music fundraisers for the Toledo Northwestern Ohio Food Bank and the Second Harvest Food Bank of Northwestern Pennsylvania. He also lends out his sailboat free of charge to a program that helps at-risk youth in Erie.
In 2005, he won a Keeping the Blues Alive Award, a national honor from the Blues Foundation. He was recently named Volunteer Philanthropist of the Year by the Association of Fundraising Professionals of Western Pennsylvania. "I have been blessed with good people," he said, referring to volunteers at the blue's festival, his employees and his wife, June.
Life Lessons
Though Esser is famous for promoting blues, he grew up in the Pittsburgh suburb of Aspinwall listening to, and playing, rock 'n' roll. "I am an old '70s rock guy with a potbelly and a bald head," he said with a laugh. The bass guitarist played in a "terrible" high school band. In his office is a framed dollar bill, the first one he earned from his music during a gig playing at the American Legion Hall in Aspinwall.
Once at Point Park, he and his classmates - Phil Harris, Phil Smith, Tony Sanchez and Tim Cox - formed a band named Wood Street. "Ron was very adventurous, very daring. Some people were intimidated by him. But once you got to know him, he had a heart of gold. If he is your friend, he is in forever," said Sanchez, who is indeed still his friend.
Esser, a journalism major, loved Point Park. "It taught me so much about life. You had to work hard to do well. There were great teachers. They really took an interest in what you did. They were like your friends."
Though he wanted to work in radio, Esser took a job after college managing the music club Graffiti in Oakland, and would bring in acts ranging from the Red Hot Chili Peppers to Jerry Seinfeld to Sam Kinison.
Natural Talent
He realized his talent was promoting bands - especially ones on the cusp of stardom. To this day, he records late-night TV such as The Tonight Show and Late Night with Seth Meyers so he can listen to the bands that play at the end of the show. "I am a music stalker," he said.
The 57-year-old volunteers his time for music festivals to raise money for the food bank and bring people together. "When I can look out and see 30,000 people forget about their lives and have a smile on their faces, it makes me feel great that I am a part of it."
Though sometimes music is viewed as a young man's game, Esser has stayed at the top of his game. "As long as you love music, you will always be current. I have loved and lived music my entire life."
Text by Cristina Rouvalis
Photo by John Altdorfer
The Point is a magazine for alumni and friends of Point Park University.