Alumnus Ryan Stana Produces Top Entertainment, Paves Way for Talent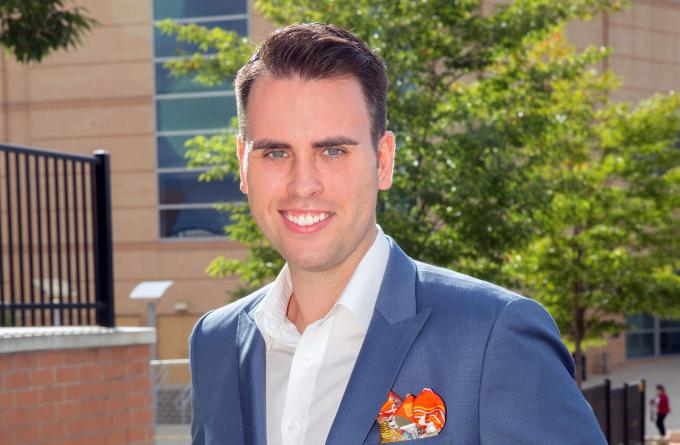 The Point
Winter 2017
Growing up as the only child of two entrepreneurial parents, Ryan Stana learned from a young age the value of taking risks and trying new things.
Stana is the founder and CEO of RWS & Associates, an Emmy Award-winning New York-based entertainment firm that produces brand experiences for top resorts, cruise lines, theme parks and New York fashion events. A 2002 graduate of the Conservatory of Performing Arts (COPA), he serves as a Point Park University trustee and has become a valued advisor to the University on the Conservatory and new Pittsburgh Playhouse.
Stana's company also recently acquired Binder Casting, an Artios Award-winning casting firm for Broadway, film and television, including The Lion King, A Gentleman's Guide to Love and Murder and Broadway's upcoming In Transit, written by Academy Award winner Kristen Anderson-Lopez (Frozen) and directed by Tony Award winner Kathleen Marshall. With this acquisition, RWS has created pathways for opportunities throughout performers' careers.
Big Dreams
"My parents encouraged me to believe anything is possible, and whatever I imagined they worked hard to make a reality for me," says Stana. His mother Shirley owns and operates Billy's Country Smokehouse, a family business still located on its original site in Greensburg, Pa., and his father Edward founded and was CEO of Tech Source, Inc., a manufacturer of tools and products aimed at helping to reduce air pollution.
As a young boy, Stana had two big dreams: to be a teacher and a performer. His parents helped make that a reality for their son by building him a little schoolhouse, "Complete with letterhead, lesson plans and an annual holiday musical, the whole thing," laughs Stana. The takeaway from his parents' encouragement was "anything I dreamed was possible with hard work."
In fact, Stana's work ethic and academic talents brought him to college while still in high school. As a sophomore at Hempfield Area High School, he explains, "I would take my core high school curriculum in the morning and earn college credit attending dance classes at Point Park in the afternoon." That experience introduced him to Joe McGoldrick, Ron Tassone, and Kiesha Lalama, academic and artistic mentors who, says Stana, "had such belief in me, it still humbles me to this day."
After graduating from Point Park with a bachelor of fine arts in theatre arts, Stana moved to New York to focus on production work. He soon landed a position as an associate producer with a company that produced corporate and retail events throughout the U.S. - and while it was a good job - he knew he would do things differently.
"So one day, on my way into work, I called my parents and explained my frustrations and they said, 'Well, why don't you start your own business?'" Stana took their advice to heart and quit his job the same day. He took a cab to a nearby Staples, bought office supplies and set up a desk in the corner of his apartment, launching RWS & Associates in 2003.
Fostering Talent
As a University Trustee, Stana relishes his role in fostering Point Park talent in the entertainment industry. A special focus is the role he plays at the Point Park senior showcase event in New York, where a select group of theatre and cinema majors have an opportunity to have their auditions adjudicated by a panel of professional agents and casting directors. "I'm always impressed with how Point Park grads are ready to compete," says Stana.
In fact, at his Long Island City office complex, Stana's staff of 35 full time and more than 2,000 seasonal employees includes several Point Park graduates, some of whom hold executive positions. In addition to his efforts with the senior showcase, Stana is also involved in Broadway Dreams, a non-profit organization that provides performance training and mentorship opportunities to youth and young adults.
As the opening of the new Pittsburgh Playhouse nears, Stana believes the University is poised for even bigger and better things. "We need to think of the new Playhouse as having a global impact on arts education," he says. "It will be a state-of-the-art facility unsurpassed for a university setting, and that's something for which we can all be proud."
Text by Barbara Vilanova
Photo by John Altdorfer
The Point is the magazine of Point Park University