Affording College Starts with Financial Planning
Explore options before receiving a financial aid award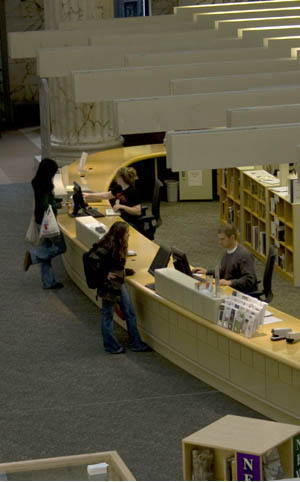 Paying for a college education can be a challenging prospect for many families.
At Point Park, 99 percent of our students receive some form of financial aid, from scholarships based on grades and test scores, to other types of aid - grants, loans and work-study awards - based on financial need. In 2012, the University awarded $81 million in various types of financial aid.
Our Office of Financial Aid strives to create the best possible financial aid package for each student. But for most students, that package does not equal the total cost of attending Point Park. Advance planning can help determine how to cover the rest.
Getting started
Point Park encourages students and families to research different strategies for college costs, even before you receive a financial aid award. Here's how to get started:
Exploring your options
Fortunately, there are options for covering the difference between financial aid and total college costs, including private scholarships, private loans, student employment and University payment plans.
Private Scholarships
Everyone has heard of students who get private scholarships based on unique qualifications you might never have imagined. Getting those scholarships starts with researching what's available, finding matches and submitting applications.
Point Park suggests Web sites that allow students and families to explore private scholarships:
Private Loans
A private loan for education should be utilized only after the student has applied for other forms of aid from the federal government, including federal loan programs, with the Free Application for Federal Student Aid.
Private loans are non-federal educational loans through a private lender that are processed and issued in a student's name. Since they are not federally backed loans, a credit check and credit worthy co-signer are usually required by the lender.
Point Park University strongly recommends that students and families consider an alternative loan only as a last resort and only after they have exhausted their loan eligibility under the Federal Direct Loan Program (Direct Loan and Direct PLUS Loan). The Direct Loan Program offers deferment, repayment and consolidation options not offered under alternative loans.
Selecting A Lender
A student may choose any lender when borrowing a private student loan. It is crucial though that you do your homework and select a lender and a loan that best suits your academic and financial needs as a borrower, since there may be differences in interest rates, fees, credit evaluation, academic progress requirements, repayment terms and borrower benefits.
The list of lenders is available through a variety of websites. This summary information is intended only as a guide for comparison purposes. Many other options exist for supplemental borrowing. You are NOT required to use any of the loans or lenders listed on this guide.
Student Employment
While some may worry about holding a job during college, studies have found that students who work a reasonable number of hours per week excel at balancing schoolwork, a job and a college social life.
Point Park students who hold jobs other than federally funded work-study aid find positions in two areas:
Payment Plans
Point Park offers payment plans to help students and families who cannot pay their balance of tuition and other expenses at one time. While this option can help those who need to pay in increments, the University does expect all students to fulfill their financial obligations.
For a full description of this option, please visit our Payment Plans page
Seeking help
If you're having trouble determining how to cover the difference between financial aid and the total cost of attending Point Park, let us know - we want to help. Please contact the Office of Student Financial Services to discuss your circumstances. Our staff may be able to suggest options or help you plan.