Pioneer Community Day 2011
Students, faculty, staff volunteer around Pittsburgh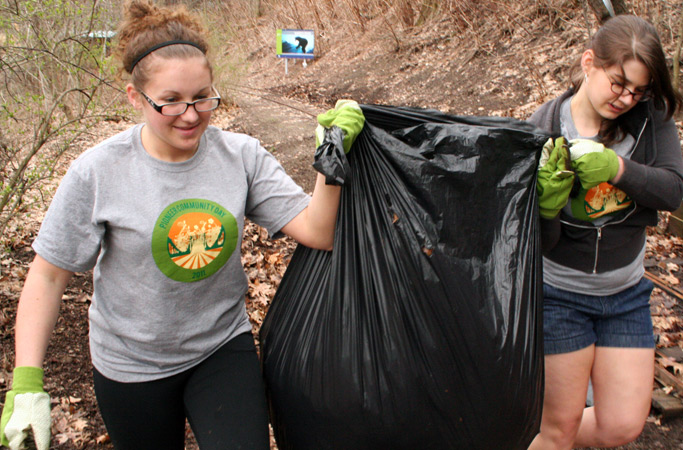 Point Park juniors Richelle Szypulski, a double major in mass communication and secondary education/ mass communication , and Rachel Cullari, a SAEM major, help clean up at the Pittsburgh Zoo and PPG Aquarium as part of Pioneer Community Day.
April 2011
Santina Frazer has been looking for community service opportunities for her son Alex, a high school student.
Anna Rhodes has been anxious to do more community service after attending the Point Park Honors Program's alternative spring break trip to New York City last year.
Michael Potoczny has recognized a need for community service within the University.
Frazer and Rhodes got their chance for additional service work after Potoczny worked with United Student Government and other members of the University community to organize Pioneer Community Day, a one-day event providing students, faculty, staff and student organizations the opportunity to participate in various community service projects on April 9, 2011.
"Pittsburgh is our campus, and what better way to get students involved in the community than by giving back to it," said Potoczny, who is a junior applied history major and president of USG. "I believe when you do something for the community you start to believe in it more, like it more and enjoy it more because you become a part of that community. The goal is to make all of Point Park a part of the Pittsburgh community."
The event's planning began when Potoczny proposed the event to USG in his strategic plan for what he wanted to accomplish within USG for the 2010-11 year. After discussions during fall semester, USG finalized details and reached out to the Point Park and Pittsburgh communities to participate.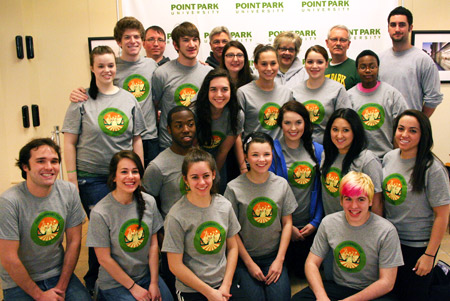 "USG sent out letters to every student organization, every office on campus and all of the administration," said Potoczny of how the event was marketed. "We invited literally the entire Point Park community. We even reached out to alumni. Then we started communicating with different charities, non-profits and organizations to procure projects around the Pittsburgh area."
To sign up for the event, participants registered on USG's website as either an individual or with their school, department or organization, and then were placed in a project group according to their affiliation and preference of project. The categories of projects included outdoor, indoor, working with people and cleaning and building.
"I have been waiting for more community service opportunities but I never went out and looked for them so I'm taking advantage of this event," said Angela Semple, a freshman cinema and digital arts major. "I wanted to make sure I participated after I went on the school's alternative spring break trip to Miami this year for Habitat for Humanity. That inspired me to actively search for community service opportunities at Point Park like this."
The day kicked off in the Lawrence Hall lobby with a free breakfast from Aramark, Point Park's food service provider, while USG members ran a sign-in table and gave participants T-shirts with the event's logo.
"I think it is good that the school can come together and do something good for the community," said Kyle Hupman, a sophomore cinema and digital arts major. "There are so many people here right now, and everyone seems so excited. It is very cool."
As participants split up into their project areas, USG took photos of each group and sent the volunteers off to their designated locations. One group, which included Rhodes, a sophomore dance major, and Frazer, a Career Development counselor, walked to Kayak Pittsburgh near PNC Park to repaint a graffiti-covered wall gray and shovel mud off a kayak launching dock.
"I got involved for two reasons," said Frazer. "For one, I wanted to give back to the community. Two, I am new to Point Park and wanted to become more familiar with the University community. Thirdly, my son Alex needs service hours for school so I brought him along to help as well."
Liam Cooney, manager of Kayak Pittsburgh and representative for Venture Outdoors, was grateful for the volunteers.
"That wall has probably needed to be repainted for two years, and we're getting it done now because we have the hands," said Cooney. "Once the season picks up, we never have free hours to just paint a wall or clean the dock off so this is very helpful."
From 11 a.m. to 12:30 p.m., Kayak Pittsburgh's appearance transformed.
"We definitely need a before and after picture," said Frazer as she brushed some finishing touches onto the freshly painted wall.
"Point Park is the first group that I have dealt with that has contacted Venture Outdoors and asked to volunteer," said Cooney. "The fact that students and staff are here doing this on their Saturday morning means a lot to me."
Rhodes also helped paint the wall.
"I feel great about what we have done today," said Rhodes. "I think Pioneer Community Day should become a tradition because the University does a lot of community events but never every single year, so next year more people will hear about what happened this year and get more involved."
Other projects included USG dying eggs with residents at Meadowcrest Nursing Center, Campus Activities painting at the Pittsburgh Zoo, and a group of nearly 40 students cleaning up the riverfront with Friends of the Riverfront.
The number of participants, which included students, faculty and staff totalled 167.
Pioneer Community Day's success was capped off with an acoustic concert featuring student David Wilson and folk pop songstress Bess Rogers at 5:30 p.m. in the Lawrence Hall ballroom and a Dance for Dreams at the Student Center at 8 p.m., with all proceeds going towards the Make-A-Wish Foundation.
"We shared in some service, gave back and then we had a little fun at the dance and concert afterwards," said Potoczny. "We purposefully planned the events on the same day."
Potoczny wants Pioneer Community Day to become a part of the University's annual activities.
"My main goal is that it becomes a tradition," said Potoczny. "My hope is that there will always be a day of service with some sort of after party."
Director of Student Activities J.W. Tabacchi also feels the event should continue in future years.
"I think it should become a tradition because one of our strategic initiatives as a University is community engagement," Tabacchi said. "Having the campus community come together to reach out to surrounding communities is an awesome experience and opportunity."
Article by Nicole Chynoweth, sophomore journalism & mass communication and multimedia major
Photos by Joel Brewton, senior photojournalism major