Lawrence Hall gallery hosts exhibit of Point Park images
'A Point Park Frame of Mind' opens Sept. 14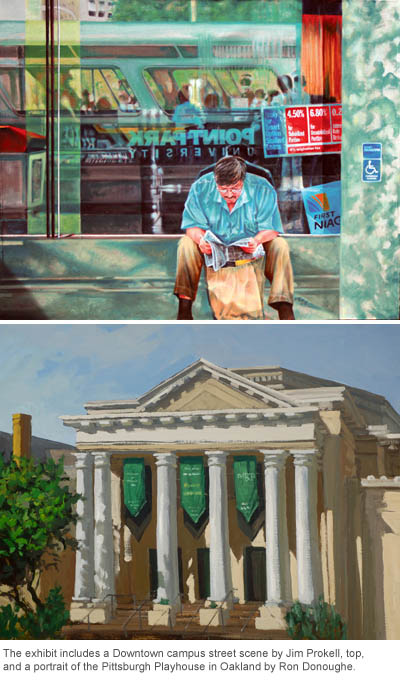 Four distinguished regional artists share their impressions of Point Park this fall in a new exhibition at the Lawrence Hall Gallery. A Point Park Frame of Mind opens Sept. 14, 2010 and features photographs by David Aschkenas and paintings by Ron Donoughe, James Prokell and Philip Salvato.
Point Park Board of Trustees member John Tomayko, an avid art collector, organized the exhibit.
"The artists were charged with capturing the essence of the University and surrounding neighborhood," says Tomayko, "and they accomplished this and more. The blend of paintings and photography provides a special look at Point Park."
David Aschkenas spent weeks at the University shooting students at International Summer Dance 2010 as well as campus buildings. A selection of resulting works will be on display during the exhibition. Aschkenas' photographs are represented in the permanent collections of corporations, foundations and museums across the country, including the Carnegie Museum of Art in Pittsburgh. His photographs are also part of The Polaroid Book, a definitive survey of the Polaroid Corporation's extensive archives. Magazines such as Time, Men's Health, Good Housekeeping, Parents, YM, CFO and Pittsburgh Quarterly publish his editorial images.
Ron Donoughe is known for his realistic paintings of Western Pennsylvania landscapes from Downtown cityscapes to rural settings. An artist "drawn to the texture of urban settings," Donoughe's works in the Point Park Frame of Mind exhibition include an oil painting of the city looking from the North Side and an exterior of the Pittsburgh Playhouse. Donoughe is a plein air artist, meaning that he works directly from life, often painting in the open air. On Sundays, he can be found painting outdoors with other artists, a group he founded 10 years ago.
James Prokell's four paintings in the exhibition feature the artist's signature use of light and reflection. The works lead visitors to find seldom-seen architectural details on campus and to view nearby streets in new ways. One of the paintings provides a fresh look at University Center, where ironically, Prokell once had a graphic design and communication business when the building was The Bank Center. Corporations and institutions now commission the artist to create paintings and sculptures for their collections.
Philip Salvato has three works in the Point Park Frame of Mind exhibition, an oil on canvas that provides a view at the city from the Ohio River, an oil on panel of the area around PPG Place adjacent to the campus, and a gicleé representing part of a large oil painting of the Station Square area across the Monongahela River. Salvato has been published in several books about the visual arts including "Painting with Passion," and "Oils Master Class."
Point Park Frame of Mind is part of Point Park University's 50th anniversary celebration. Alumni and visitors are welcome to view the exhibition when Lawrence Hall is open to the public.