Kaley Ann Voorhees with Tony Award nominee Norm Lewis in The Phantom of the Opera at the Majestic Theatre on Broadway.
Theatre Alumni Land Jobs on Stages Worldwide
Graduates of the theatre programs at Point Park University are performing or working on stages all over the world:
On Broadway, cruise lines and television shows
With national tours
In regional theatre and movies
As stage managers, production managers, designers, carpenters, electricians and artists on Broadway
With touring companies and cruise lines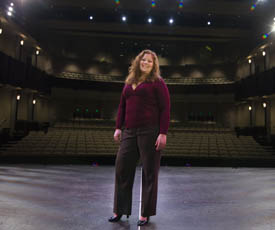 "Point Park's theatre program helped to shape me into the professional woman I am today."
-- Caitlin Howley, B.A. in technical theatre


---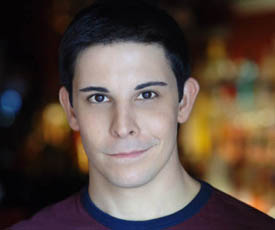 "My Point Park education gave me the tools and the confidence to be a professional theatre artist."
-- Marcus Stevens, B.F.A. in musical theatre


Alumni Profiles
On Broadway
Kaley Ann Voorhees , Phantom of the Opera
Rory Kaplan, Candi Boyd, Natalie Gallo and Marlana Dunn, Jersey Boys
Mike Cannon and Bobby Pestka, Aladdin
Sam Tanabe, Allegiance
E. Clayton Cornelius , Sister Act and Beautiful: The Carole King Musical
Samantha Shafer, Rocky and The Addams Family
Jason Lee Garrett, Big Fish (world premiere) and Evita
Sarah Meahl, Paper Mill Playhouse's Can Can and Paramour
Callan Bergman , Mary Poppins and Pippin
Sophie Quist, The Heiress
Christina Sivrich - Previously in Grease
Megan Sikora - How to Succeed in Business Without Really Trying
Pam Bradley, Case Dillard and Shua Potter - Mary Poppins
North Shore Musical Theatre
Casi Reagle, A Chorus Line
Daniel J. Edwards, The Little Mermaid
Television
Paul Dimeo - ABC's Extreme Makeover: Home Edition
Greg Funk - Three-time Emmy winner for Babylon 5 and two-time Emmy winner for X Files (make-up special effects)
Melina Kanakaredes - CSI: New York and NBC's Providence
Jim Martin - Emmy Award-winning director for Sesame Street
Chris Quiban - Winner of the American Choreography Award for The Wayne Brady Show
Joshua Reese - Principal role in Spike TV mini-series, The Kill Point
Mark Swanhart - Choreographer for Office Max TV commercial, choreographer for Celine Dion's world tour, and movement coordinator of Baz Luhrmann's Broadway production of La Boheme
Film
Billy Hartung - Performed in the film Chicago and starred as Chuck Cranston in the Broadway production of Footloose
Damien Luvara - Holes with Sigourney Weaver
Joshua Reese - Unstoppable
Stage Management
Veronica Aglow - Production manager at Geva Theatre Center
Nikki Armato - Stage manager at the York Theatre Company; Production stage manager at Metropolitan Playhouse
Madison DeCoske - Stage manager, The REP and Bricolage Theater
Alicia DeMara - Production stage manager at The Pittsburgh Playhouse, The Repertory Company and The Public Theater
Kate Devlin - Production manager at Lincoln Park Performing Arts Center, Production manager at Robert Wilson Center, Pittsburgh
Reggie Kelly - Assistant stage manager at Carnegie Mellon University and Sacramento Theatre Company
Penny Lin Lambright - Automation technician at Norwegian Cruise Lines 
Adam Meys - Line entertainment technician at Disney Animal Kingdom
James Ogden - Stage manager at North Carolina Dance Theater, Stage manager: Sea World San Antonio
Melanie Paglia - Stage manager at Kelly Strayhorn Theater
Caitlin Roper - Stage manager at Bricolage Theater
Jessica Wolfe - Production stage manager at Prime Stage Theater

Ruth Zang - Broadway: Production assistant for Cry Baby
Technical Theatre/Design
Buster Bowman - Founder and manager of Aftershock Productions
Zack Brown - Sound designer for The Wilma Theater, lead audio engineer at Texas Musical Drama
John Brucker - Carpenter at City Theatre
Tim Bruno - Costume fellowship at Berkley Repertory Theatre
Megan Caplan - Technical director and master carpenter, Interlochen Center for the Arts, freelance carpenter, rigger, electrician at New York City companies like SITI, Classic Stage, Theatre for a New Audience
Jennifer Christenson - Technical support specialist, Electronic Theatre Consols
Jonathon Geller - Technician for the Alchemy Concert Systems, LLC. 
Chad Hain - Technical director at Triad Stage
Katie Koval - Entertainment technician pyro and lighting at the Walt Disney Company
Brittany Mellerson - Lead electrician for Verducci Event Productions
James McCrory - Production manager at PEG Prather Entertainment Group
Meredith Murphy - Costume designer at The Lake Dillon Theatre Company, Crafts Artisan at Arvada Center for the Arts and Humanities
Scott Nelson - Technical director at The Yard
William Joshua Schmiedel - Rigging technician at Holland America Lines
Jeffrey Small - Lighting designer at the Hangar Theater, production assistant, New Year's Eve at Times Square and the Macy's Parade
Caila Ruggieri - Shop manager at West Virginia University
Rich Szczublewski - Sound electrician/sound designer at Palm Beach Dreamworks
Alex Windle - Shop management apprentice, Walnut Street Theatre, Drafter at Proof Productions
Mary Kay Yezerski - Hair artist for The Producers on Broadway