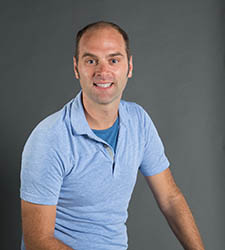 Assistant Professor
Head of Private Voice
Contact Information
Education
M.A., Teaching English to Speakers of Other Language, Specialization: International Education Management, Middlebury Institute of International Studies at Monterey
B.M., Vocal Performance, University of Evansville
Courses Taught
Private Voice 
Singing for Dancers
Musical Theatre Techniques
Art and the Human Experience
Background
Tim Marquette is proud to be returning to the Conservatory of Performing Arts as an assistant professor after serving for seven years as a part-time professor and staff accompanist. As an actor, singer, stage director, musical director, vocal coach and accompanist, he has enjoyed working in the United States and around the world. In addition to his work in musical theatre and opera, Marquette is also an English language teacher and has worked in England, Italy, Spain, Japan and Nepal.
Professional Memberships and Organizations
American Guild of Musical Artists
TESOL International
American Association for Applied Linguistics
Performances
Jimmy Winter, Nice Work if You Can Get It
Leo Bloom, The Producers
Ren McCormack, Footloose
Jesus, Godspell
Will Parker, Oklahoma!
Fyedka, Fiddler on the Roof
Danny Zuko, Grease
Padamadan/Nikos, Legally Blonde
Grinch, Seussical
Che U/S, Evita
Indio, West Side Story
Tulsa U/S, Gypsy
Antonio, LeNozze di Figaro
St. Brioche, Die Lustige Witwe
Research Interests
International education as it relates to the performing arts
Performing arts education for English language learners in mainstream education
Publication
Marquette, T. & Bailey, K.M. (2017). Incorporating Performing Arts Projects into the K-8 Curriculum. NYS TESOL Journal, 4(2), 4-19.
In The News