Pictured above: acting and musical theatre seniors in the 2016 showcase

Senior Showcase Helps Launch Students' Careers
Each year, seniors majoring in theatre and cinema are selected to participate in the Conservatory of Performing Arts annual showcases to help launch their careers. This year's showcase season is as follows:
Theatre Showcase
May 9, 2016 
Signature Theatre, New York, NY
Fourteen students earned their spot in the 2016 theatre showcase through auditions adjudicated by a panel of agents and casting directors from New York City. The students had the unique opportunity to work with leading professionals in the industry to prepare them for this year's showcase. The artistic team included:
Ryan Stana (COPA '02), showcase executive producer, CEO of RWS & Associates, New York City
Sheila McKenna, showcase director, chair of Point Park's theatre department
Erin Ortman, showcase creative consultant, theatre director and teaching artist in New York City
Camille Rolla, showcase music director/accompanist, musical director in Pittsburgh
Jim Cooney , showcase choreographer, visiting artist at Point Park and teacher/choreographer in New York City
Rachel Hoffman, showcase consultant, casting director at Telsey + Company, New York City
Josh Pultz, showcase consultant, senior agent at DGRW Talent, New York City
Conservatory alumni were invited to the showcase at the Signature Theatre.
Meet the Class of 2016 Theatre Showcase Candidates  
Cinema Showcase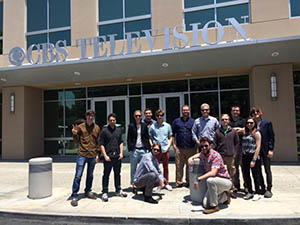 Cinema students and faculty visit CBS studios in L.A.

May 18, 2016 — 7:30 p.m.
The Culver Studios, Los Angeles, Calif.

A panel of professional filmmakers select five student-created film shorts that were given a premiere screening for the 2016 cinema showcase at the historic Cecil B. Demille Theatre at the Culver Studios in Los Angeles. Additionally, links to the selected films will be sent to agencies and production companies in New York City and Los Angeles.
The student filmmakers spend four days in Hollywood, meeting with agents, managers, executives at studios and television networks, being given one-on-one mentorship by professional producers, writers, cinematographers, as well as visiting TV sound stages, studios and visual effects and post-production houses.
Students also connect with cinema arts alumni who are established in the field through social functions and on-site visits.