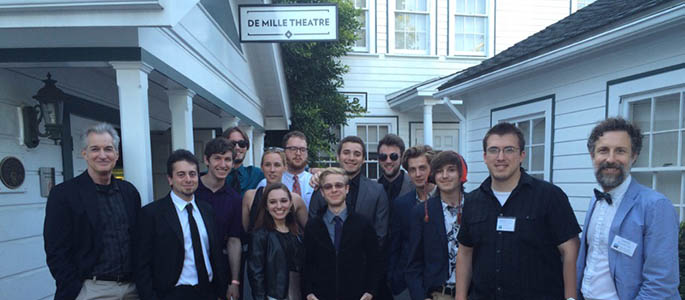 Cinema students at the historic Cecil B. Demille Theatre at the Culver Studios in Los Angeles.
2018 Cinema Showcase
April 21-22, 2018
Point Park University
The Class of 2018 Cinema Showcase includes:
Thesis Screenplay Reading
Production 4 Screening
Production 1 Showcase
Reception
A Showcase of Student Films in Los Angeles
The Cinema Arts Showcase in Los Angeles is on hiatus in 2018
The cinema arts department hosts a Los Angeles Showcase to introduce Point Park University students to the film and television industries and showcase their work to industry professionals.
Each year, the department holds a Cinema Showcase Competition, from which five films are selected for the Showcase screening, and 12 student filmmakers are selected to participate in the Showcase trip to Los Angeles. The films are given a premiere at a Motion Picture Studio in Los Angeles, with industry professionals. Cinema arts alumni are invited to attend the screening. Links to the films are sent to agencies and production companies in New York and Los Angeles.
The student filmmakers spend four days in Hollywood visiting TV sound stages, studios, and visual effects and post-production houses. They meet with agents, managers, executives at studios and television networks, and are given one-on-one mentorship by professional producers, writers, and cinematographers.
Students also connect with cinema arts alumni who are established in the field through social functions and on-site visits.