Honors Student Organization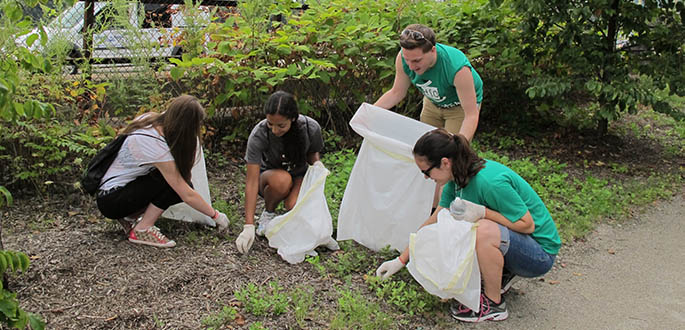 As part of a volunteer project, Point Park honors students pick up litter along the Eliza Furnace Trail in Downtown Pittsburgh.
Honors Student Organization Provides Leadership, Volunteer Opportunities
The Honors Student Organization is a student-run group for Honors Program members and students of any major. Beginning freshman year, students in HSO can apply for a leadership role, volunteer to serve on a committee, as well as lead projects and activities.
HSO students lead numerous leadership and volunteer activities throughout the year, including:
"City as Text" volunteer project;
Animal Rescue League Shelter and Wildlife Center service project;
Pittsburgh Great Race;
Susan G. Komen for the Cure
Pittsburgh cultural and professional meetings and events.
These leadership and volunteer activities offer invaluable learning experiences that enhance a student's resume when they apply for internships, scholarships, graduate school or jobs.
HSO has regular meetings throughout the semester, along with other activities and events. Check out information about meeting dates and locations on the HSO Facebook page.
HSO Executive Board Members
President: Sarah Martin, education
Graduate Assistant: Tyler Dague, M.A. in media communication
Secretary: Kooper Sheeley, sports, arts and entertainment management
Treasurer: Trillium Falotico, dance
Academic Events Coordinator: Alannah Owens, human resources management
Social Events Coordinator: Alexa Newbrough, theatre arts: performance and practices
Service Events Coordinator: Kelsey Wolfe, public relations and advertising
Marketing and Social Media Coordinator: Angela Alteri, PR and advertising
Graduate Intern: Parker Werns, University of Pittsburgh graduate student