Pioneer Alumni Recruitment Team (P.A.R.T.)
Help Future Pioneers Learn About Point Park
No one can better describe the benefits of a Point Park education than successful, confident alumni like you who have built solid careers after graduation. Your personal stories and experiences can help incoming students feel welcome to the Point Park University community.
Alumna Jamie Inferrera: Why volunteer for PART?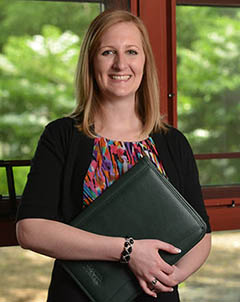 "I think it is beneficial for prospective students to hear from alumni and to see that alumni are still connected with the University even after graduation. Plus, alumni can provide details about how their Point Park education has prepared them 'the real world.'"

-- Jamie Inferrera, (COM 2010), Associate Attorney at Eckert Seamans Cherin & Mellott, LLC and President of the Point Park Alumni Board.

We invite Point Park alumni, including recent graduates, to share your experiences with newly admitted students as part of the Pioneer Alumni Recruitment Team - PART. As a PART member, you will have the opportunity to connect with future Pioneers via phone calls, letters or email messages.
In these conversations, you can:
Congratulate students on their admission to Point Park. Remember how excited you felt!
Talk about your own experiences as a student here.
Describe how a Point Park education helped you achieve your goals, both in school and after graduation.
Answer any questions you can.
For questions you cannot answer, refer students to Point Park staff (you'll have their info).
Talking with incoming students and learning about their interests and goals can be an inspiring experience. And helping future Pioneers is a meaningful - and deeply appreciated - way to support Point Park's continued growth as University strives to fulfill its mission. Thank you!
---
Getting started with PART
Volunteering with PART doesn't need to take much time, perhaps a few hours during key times as students prepare to come to campus. Here are the key steps you'll follow:
Complete the PART volunteer form.
Receive a short list of admitted students, their intended major, contact information, and Point Park staff contact information for questions.
Review a list of helpful tips to guide the conversation.
Contact your students via phone, letter or email to start the conversation.
Jot down any notes, such as questions or concerns, and pass those along to Point Park's admissions staff members.
Once we receive your volunteer form, we'll be in touch promptly with more information to get you started talking with future Pioneers!
Questions? We want to hear from you!
The PART program is a collaborative effort between the Office of Alumni Engagement and Givinig and the Office of Enrollment Management. We're happy to answer questions about how alumni can help bring recruit students to attend Point Park. If there's more you'd like to know please contact the Office of Alumni Engagement and Giving at:
More alumni volunteer opportunities
In addition to contacting students, PART members can support Point Park recruitment efforts in other initiatives:
Thank you for volunteering to assist Point Park!