How to make an Animation Portfolio
Saturday, April 12, 2014

One-day Workshop for High School Juniors and Seniors
This workshop will be open to the first 15 students who apply. Register Today
Workshop Fee: Only $30 - includes all materials plus lunch
Parents: If a student is under the age of 18, a participation agreement must be completed.
---
Colle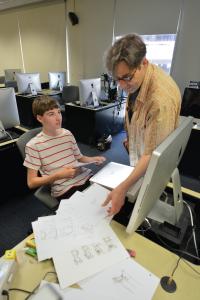 ge applications will be due soon, so now is the time to start preparing your animation portfolio. Putting together a successful portfolio will not only increase your chances for college acceptance, but will increase your chances in securing additional funding. This program will help you to make a high quality professional portfolio to submit to universities, giving you an edge.
In this intensive Portfolio Review and Animation workshop, you will learn to create a successful portfolio to submit to the schools of your choice. Participants should bring 15 to 20 artworks for discussion. If you do not have that many works, then just bring what you have.
Experienced faculty will individually review the work for its strengths and weaknesses, then make suggestions on what you should include in your application to be more competitive for scholarships. You will receive advice on how to choose pieces of your work that will showcase a range of mastered skills and techniques.
This workshop also will demonstrate stop motion and animation timing techniques. You will design your own clay characters, then as a production team, bring them to life. By the end of the workshop, you will have created a short film for portfolio inclusion.
INSTRUCTOR
Professor Pahl Hluchan studied animation at Rhode Island School of Design. After graduating, he worked in video production for five years. He also acted as art director and head puppet designer on a series of children's programs.
In 1992, he left video production to study painting at Yale University. He was awarded the George R. Bunker Prize for excellence in painting and printmaking. Since graduating Yale, he taught at Southern Connecticut State University, Savannah College of Art and Design, Dartmouth and University of the Arts. For the past fourteen years he taught at the Delaware College of Art and Design where he created and ran the animation department.
SCHEDULE
10 - 10:45 a.m.: Introduction and demonstrations
10:45 - 11:45 a.m.: Character and background design
11:45 - Noon: Portfolio discussion
Noon - 12:30: Lunch
12:30 - 2 p.m.: Student teams animate their characters; Individual portfolio reviews