The Commuter Lounge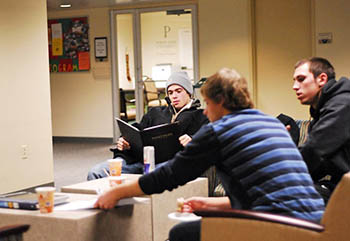 Easily accessible on the fourth floor of Lawrence Hall, the commuter lounge is the place for commuter students to hang out, relax, or study between classes. Essentially, it's your "home away from home," with:
free WiFi
TV
microwave
vending machines
comfortable furniture
copy machine (coin-operated)
Use the commuter lounge to study, gather with classmates or just take a breather. Additional microwaves are available for all students in the Point Cafe and the second floor of Thayer Hall outside the JVH.
Lockers 
There are lockers available for registration on the 3rd floor of Academic Hall. Store books, clothing and whatever else you don't feel like carting around.
Use of the lockers is free, but you need to register for one in the Office of Student Life, first floor of Pioneer Hall. And remember to bring a lock.
See the student handbook for rules, as well as information about summer clean out. Questions about lockers? Contact Student Life at 412-392-8026. 
Eating on campus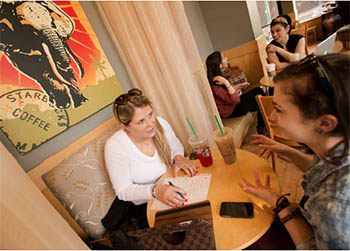 Whether you're on campus once a week or five days a week, you'll need to eat. Breakfast, lunch, dinner, a quick snack — and don't forget coffee! If you pay to eat out (the quickest is fast food, no pun intended) this can get really expensive, not to mention unhealthy. Eat on campus.
Point Park meal plans make it easy for you to eat healthily, cost effectively and without needing to stray far from campus. You can choose a meal plan specifically for commuters, which gives you access to
all-you-can-eat breakfast, lunch and/or dinner in the Lawrence Hall Dining Room
breakfast, dinner or late-night hours at the Point Café
flex dollars, which work like a bank debit card and are accepted at all of Point Park's food service locations, including the campus Starbucks.
Check out the various meal plan options, including costs, and fill out a meal plan contract to sign up.