Point Park observes 10th anniversary of 9/11 attacks
University community gathers to remember and reflect
Point Park students take part in a candlelight vigil in Alumni Park on the 10th anniversary of the 9/11 terror attacks. | Click photo for more pictures of Point Park's week of 9/11 events. Scroll down to see a student video from the candlelight vigil.

September 2011
The Point Park community took part in events and observances to commemorate the 10th anniversary of the 9/11 terror attacks, including the crash of Flight 93 in Western Pennsylvania. For undergraduate students -- many of whom were in elementary school when the attacks occurred -- the activities were a way to learn more about what happened and to pay their respects to the victims and families.
Throughout the week, 9/11 lapel pins were sold on campus to help raise money for the Flight 93 memorial in Shanksville, Pa. The effort raised more than $768.

Faculty Lecture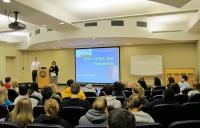 Michael J. Finnegan, an assistant professor of criminal justice and former FBI agent, gave his perspective on the decade following the Sept. 11 terrorist attacks to a packed audience in the JVH Auditorium. In his talk, hosted by the School of Arts and Sciences, Finnegan:
Discussed 9/11 survivors and those who lost their lives
Reviewed terrorist attacks prior and after 9/11
Discussed communication problems between the FBI and CIA
Talked about the threat of more terrorist attacks on the United States
Answered students' questions on 9/11 conspiracy theories
Photojournalism exhibit
School of Communication graduate Scott Spangler was the first news media photographer to arrive at the Flight 93 crash site in Somerset County. A collection of his images from the site over the years is displayed in the Thayer Hall gallery space, and Spangler discussed his work at the gallery opening.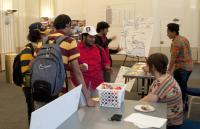 Bazaar in the Ballroom
The Bazaar in the Ballroom brought local cultural groups to Point Park so students could learn more about other parts of the world, particularly the Middle East. The community organizations included CAIR Pittsburgh, the Saudi Students house and the Carnegie Library. Students also enjoyed playing trivia games related to international culture and refreshments from a Pakistani restaurant.
Film Screening
Students watched the documentary "9/11" by French filmmakers who were in New York City creating a documentary about a New York City rookie firefighter when the attacks began. Christopher Sepesy, an adjunct professor in Department of Cinema and Digital Arts, introduced the film.
9/11 Slideshow and Faculty Panel Discussion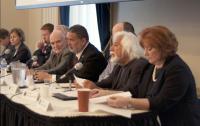 Hosted by the School of Business, this gathering began with a musical slideshow of images of the World Trade Center before and after 9/11. School of Business faculty and staff shared their memories of 9/11 and invited students (mostly First-Year Experience students) to share stories as well.
The faculty panel discussion was held in the Lawrence Hall ballroom and moderated by Professor Dimitris Kraniou. The panelists offered a lively and animated discussion that showcased the range of views among Point Park faculty. Full-time and adjunct faculty and their area of discussion included:
William Breslove, 9/11 aftermath in the Middle East
Natalya Goreva, cyber terrorism and computer security
Archish Maharaja, the economic impact of 9/11
Paul Nutter, European/British aspects of 9/11
Robert O'Gara, media coverage and photojournalism
Wiliam Purcell, non-violence as a force for change
Gregory Rogers, role of the intelligence agencies, including the CIA and FBI
Robert Ross, international conflicts and U.S. involvement
Mohammed Sidky, balancing national security and freedom
Lorelei Stein, anthrax attacks and other biological terror attacks
Flight 93 dedication ceremony, Shanksville, Pa.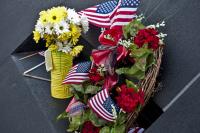 About 20 students boarded a bus at 7 a.m. for Somerset County, where Flight 93 crashed after the crew and passengers fought back against the terrorists who high-jacked the plane. Students heard remarks by former presidents Bill Clinton and George W. Bush and Vice President Joe Biden, and took part in the emotional ceremony as families of the victims helped unveil the new memorial.
Each student on the trip wrote a message on a sign board that read "Point Park Remembers, 9.11.01." They then attached a 9/11 Remembrance Pin and left the board at the Flight 93 site.
Several students shared what the trip meant to them:
Hilary Wavrek, sophomore, Broadcasting and Sport, Arts and Entertainment Management
"I came because I always felt some sentimental attachment to 9/11 even though I wasn't personally affected, and I never got the chance to do anything on any of the anniversaries. I am absolutely thankful I came. I loved it. It was really nice to be with everybody remembering the victims of Flight 93.
Eric Brandt, Junior, Forensic Science
"The events of 9/11 interest me and to think that this happened only a couple hours away from where we are. I have an uncle in the military and he was supposed to be in the Pentagon that day, so I feel a connection to what happened."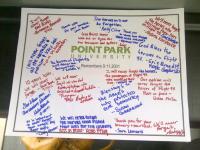 Paige Krivda, freshman, Broadcasting and International Business
"I wanted to come on the trip because I was at Shanksville five or six years ago and I wanted to see how it had changed. Plus it's the 10-year anniversary and I am kind of a history buff, so it was really neat for me. I thought the trip lived up to its expectations, to get all the cool things that we got to see today and all the people speaking, especially the presidents."
Andrea Karsesnick, freshman, Mass Communications
"I came on the trip because I was only eight years old when all of this happened and I am kind of angry at myself that I didn't understand what was going on at the time. So now I am trying my best to fully understand, and I feel like this trip allowed me to do so."
Kayla Gajewski, sophomore, Math Education
"I came because I remember the attacks happening and I was interested in seeing the memorial. I have two cousins and my brother who joined the military. I thought the memorial was very nice, and it was especially interesting to hear the presidents talk about the events that occurred that day."
Candlelight vigil in Alumni Park
Point Park's Alumni Park was packed with students, faculty and staff on the evening of Sept. 11, 2011, the 10th anniversary of the attacks, for a moving remembrance of lives lost. Throughout the week, students had the opportunity to decorate small white bags, which were lined up in the park with candles inside to serve as luminaria.
Assistant Professor Michael J. Finnegan opened the vigil by playing a piece on his bagpipes, and United Student Government President Anthony Costulas talked about the meaning of 9/11 for students. Two students, Meghan Manahan and John-Michael Breen, sang their own arrangement of "God Bless America."
After a prayer and moment of silence, the vigil closed with Finnegan playing "Amazing Grace" on the bagpipes.
Student Video: Candlelight Vigil
Two Point Park students, senior broadcast major Michele Haney and senior cinema and digital arts major Josh Lopata, created a video about the experience.