Comedy Night gets students laughing
Improv troupe, comedians offer break from studying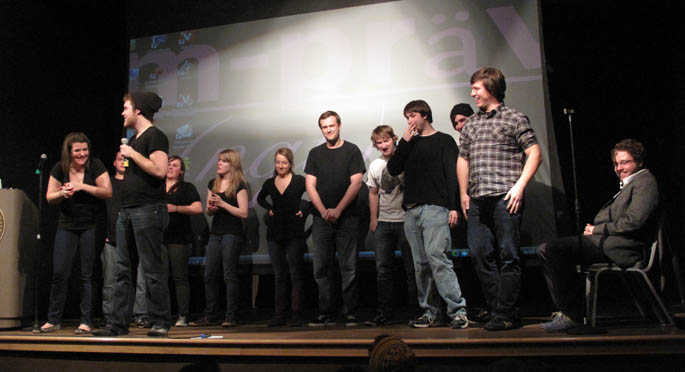 Above: Members of the Not Quite There Improv troupe, in black shirts and jeans, share the stage with stand-up comedians at the end of Comedy Night in the George R. White Theater. Below: NQT Improv members perform a skit called "Facebook." | Photos by Andrew Weier
With spring break approaching, Point Park students got a chance to kick back and laugh - at their fellow student entertainers - during the first Comedy Night of spring term 2010.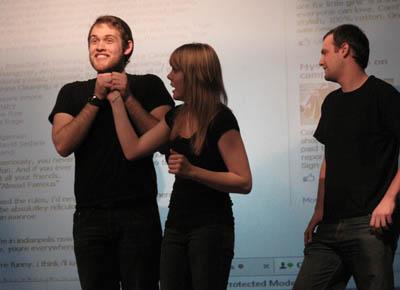 The show, held in the George R. White Theater, featured the Not Quite There Improv troupe and several student stand-up comedians. It was presented by the Improv Club, one of a wide variety of student organizations at Point Park.
The student comedians performed individual routines, in some cases calling audience members on stage to take part.
The Not Quite There Improv troupe performed a number of skits and comedy games, often involving audience members in the routines.
In "Facebook," NQT asked a member of the audience to come on stage and log on to her Facebook Web page, which was projected onto a large screen at the rear of the stage. Troupe members then launched into an on-the-spot routine based on her wall, profile information, photos and posts.
Another game called "Actor's Nightmare" started with an NQT member randomly choosing one of three plays. An audience member called out a script page number from which one NQT member had to read while the other improvised her lines in response.
The show finished up with all the NQT members and stand-up comedians on stage for open improv time and one last round of laughs.
Related link