Etiquette dinner gives students skills for networking, job search
Students learn art of business small talk, sipping soup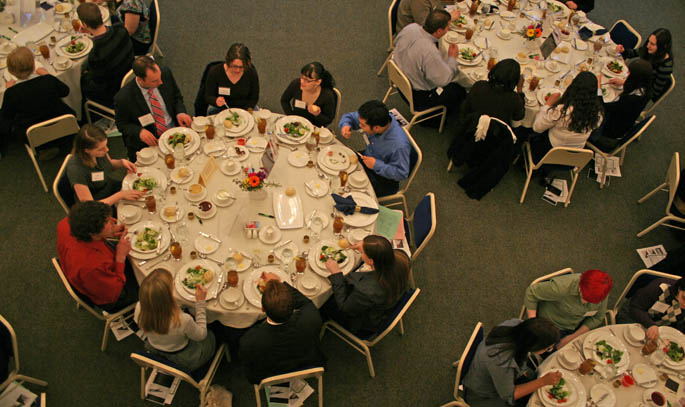 March 2011
Back when she was an undergraduate and involved with student government, Angela Meiers took part in a board of trustees retreat that included a dinner. She quickly realized she knew "a little bit about dinner etiquette," but not everything.
More photos
Click image for slideshow
Related links
"If I would have had practice as a student I would have felt much more comfortable and a lot less nervous," said Meiers, a 2006 Point Park graduate who now is the coordinating assistant in the University's Office of Career Development.
To help current students learn the etiquette skills they need for career networking and job interviews, which often include lunches and dinners, the Office of Career Development held the annual Networking Reception and Etiquette Dinner on Feb. 22 in the Lawrence Hall Ballroom.
Students paid $3 to gain experience making connections with professionals and improving their formal table manners. With their admission, students received name tags, personalized business cards with their contact information and major, and a business card holder.
"I thought it was a good way to learn about ways to network and that's important, especially for students who want to take advantage of their college education and get a job afterward," said Kenneth Musgrave, a sophomore broadcasting major who attended the event. "Connections are important."
"I attended so that I could meet new people and try to get a head-start on my studies and what I want to do for the future," said Shannon Mackenzie, a freshman forensic science major.
Various businesses sponsored tables for the event including Pittsburgh Business Times, Westinghouse Electric Company and Massage Envy Spa.
A networking reception, a new segment of the annual event, kicked off the evening with appetizers of hibachi beef skewers with sauce, baked Brie en croute, and mock cocktails. Students mingled with representatives from sponsoring businesses as they waited for dinner to begin.
At 4:30 p.m., the students and business professionals sat together at dining tables with formal place settings as Aramark caterers served a four-course meal of French onion soup with bread, salad, stuffed chicken breast with sun-dried fruit bread pudding, green beans almondine with a rice pilaf, and apple pie a la mode.
Career development staffers Amy Bittner, Mark Platts and Elsie Boucek gave a slideshow presentation on how to present oneself during dinner and how to eat each course, including the correct techniques for sipping soup and cutting salad toppings like cherry tomatoes and croutons.
"With practice comes confidence," said Bittner, a Point Park career counselor. "Often when you're facing a formal dinner or an interview, you're nervous enough already. You don't want to also worry about what fork you use or which water glass is yours."
The event ended with a few last remarks from Career Development and a basket raffle, which awarded one business representative and one student each with a basket of professionalism-related prizes, such as a daily planner and a book titled, "The Etiquette Advantage in Business."
For the event, the Office of Career Development collaborated with the Office of Student Activities, United Student Government, the Student Success Centers, the School of Business, the School of Communication, the School of Arts & Sciences, and the Conservatory of Performing Arts.
Article by Nicole Chynoweth, sophomore journalism and multimedia major
Photos by Joel Brewton, senior photojournalism major
Student Video
Point Park student Francesca M. Sacco created a video report for U-View, Point Park's student-run TV station, about the Networking Reception and Etiquette Dinner: